Analysis by LSH and Connells says fire safety rules for high-rises could 'completely mothball' 243 building schemes
New fire safety regulations for high-rise buildings in London mean plans to build almost 125,000 homes may be scrapped, according to consultants Lambert Smith Hampton and Connells.
A pipeline of 243 buildings in planning with the potential for providing 123,632 homes in the capital may be returned to the drawing board or abandoned, the analysis by LSH and Connells suggests. It said the schemes were "under threat of significant delay, or even being completely mothballed" because of the new rules.
London mayor Sadiq Khan announced in February that the government's proposal that second staircases be included on all new 30m buildings across the UK would apply in the capital with immediate effect. This is despite the England-wide regulations having yet to come in.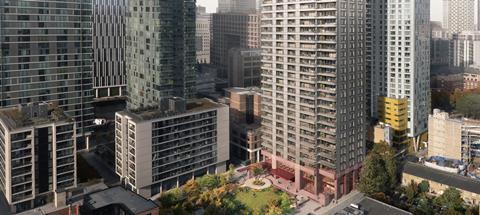 The aim of the new regulations are to provide to a secondary means of escape for residents in the event of a fire. As a result of Khan's immediate adoption of the policy, plans for new buildings above 30m in London must have two stairwells before being signed off by the Greater London Authority.
Developers have put a string of major schemes on hold so they can be redesigned to accommodate this new regulation which comes in the wake of the Grenfell Tower fire, with Wates and Havering Council yesterday pausing work on a 1,380-home estate regeneration scheme. Berkeley and Peabody are among the developer to have also talked publicly about how their development pipelines are likely to be affected.
"Given the tragic circumstances that led to the revision of fire safety regulations, there are few plausible grounds on which to oppose their implementation," Mary-Jane O'Neill, head of planning at LSH, said in a statement. "But all of us involved in the process of development do need to process their implications and come up with some pragmatic solutions as a priority."
The Department for Levelling Up, Housing and Communities proposed the mandate on second staircases on 23 December 2022 to "make buildings safer".
Khan's decision to expedite the implementation of the government's proposal in London followed calls by the Royal Institute of British Architects (RIBA) and the Chartered Institute of Housing for the threshold at which the rule kicks in to be lowered further to 18m. Khan's deputy mayor Tom Copley said last week that the GLA wouldn't rule out lowering the threshold.
It is almost six years since a fire broke out in the 24-storey Grenfell Tower block of flats in North Kensington, West London, killing 74 people and injuring a further 70 people.
Second staircases were not recommended as part of Judith Hackitt's review of building safety regulations conducted in the aftermath of Grenfell. However, in response to Hackitt's report in 2018 the RIBA said all high-rise buildings should have more than one means of escape.
At the time, RIBA recommended second stairwells on buildings of 11m or higher. The government estimates the new fire safety measures will cost £1.6bn UK-wide over a decade.
Delays caused by the regulations may hit building targets in local authorities with a large number of high-rises pending, such as Tower Hamlets, Southwark, Greenwich and Newham, the analysis by LSH and Connells found.
"There is no silver bullet on the horizon that will unlock the uncertainty surrounding tall buildings," O'Neill said. "Housebuilders are unlikely to go back to the drawing board on these schemes until there is much more clarity around the required design standards.
"In the meantime, local authorities need to maintain a dialogue with developers and work with them to optimise existing sites and potentially release more land and opportunities."
Regarding the threshold of 30m, Tom Copley, London's deputy mayor for housing, said yesterday: "There needs to be a lot more work done on the evidence between 18 and 30m. We certainly wouldn't be ruling out a lower threshold."