Norman Foster, David Chipperfield and Ivan Harbour honour a 'great pioneering architect of the modern age'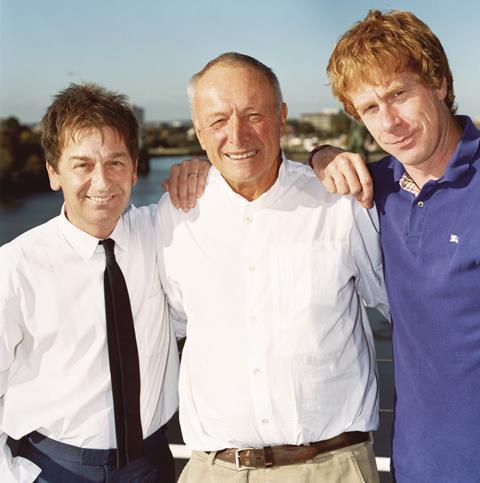 Norman Foster has led tributes to Richard Rogers, who died yesterday aged 88.
Foster described Rogers as his "oldest and closest friend" and a kindred spirit for 60 years.
"Richard Rogers was a great pioneering architect of the modern age, socially committed and an influential protagonist for the best of city life – such a legacy," he wrote in a piece published on Building Design.
David Chipperfield wrote on Instagram: "It is difficult to think that we will never see the beautiful smile of Richard Rogers again. He has left us so much through his work, his political engagement and the example he set as a person and his consideration for others. Few people can claim to have been genuinely loved by so many. In their sadness [his wife] Ruthie and the family must be so rightly proud of him."
Ivan Harbour, a director of the practice founded by Rogers, described him as "a unique and wonderful human being" to whom he owed so much.
Harbour said: "Through Richard, as a young graduate, I learnt that architecture was about much more than the design of buildings; its social and political impacts were equally important.
"He gave me the opportunity when I was very young to explore and originate unencumbered in the highly creative environment that he presided over. I am indebted to him for that trust he placed in me.
"Over the subsequent 30-plus years we achieved more than I ever imagined possible, practising together, learning from each other, always looking to the future, always looking to make things better. His absence is very close, but his presence remains with me.
"I will never forget his wry smile, his infectious laugh, his paternal nature, and his sharp intellect. He was not an archetypical architect, but he was a unique and wonderful human being."
Right from the start of his career when he and Renzo Piano won the competition for the Pompidou Centre as virtual unknowns, Rogers has designed some of the world's most famous and best loved buildings.
He won the Pritzker Prize, the RIBA Gold Medal and two Stirling Prizes among many other honours, and was elevated to the House of Lords as Baron Rogers of Riverside by Tony Blair in 1997, where he served until May this year.
Ed Vaizey, a fellow member of the House of Lords and former architecture minister, tweeted: "Farewell to Richard Rogers, one of Britain's greatest architects. He leaves behind an incredible legacy. I was lucky enough to list the home he built for his parents."
Another peer, Andrew Adonis, former secretary of state and former chair of the National Infrastructure Commission, wrote: "A true genius of modern city planning and architecture. He influenced a generation like no other and I was privileged to be a friend."
The LSE's director of estates Julian Robinson, who commissioned RSHP to design the recently opened Centre Building after an international design competition, tweeted: "Richard was a lovely bloke. He took a personal interest in the design and development of #lse Centre Building. Coming to site and donning full PPE to get to ride in the hoist to the top of the building at the age of 84!"
Immediate past president of the RIBA, Alan Jones, called him "one of the global giants of the architects' profession".
London mayor Sadiq Khan tweeted: "Terribly saddened to learn of the death of Richard Rogers. He was one of the world's most influential architects and the brilliant mind behind some of London's most iconic buildings. My condolences to Ruthie and the family."
James Timberlake, from Kieran Timberlake, the practice that designed the new US embassy in Nine Elms, said: "Grateful to Sir Richard Rogers for his gracious and generous participation in the jury and peer review of @KIERANTMBERLK's winning design for @USAinUK for @StateDept - architecture has lost a giant."
Architect and RIBA councillor Simone de Gale said: "Richard Rogers nominated me to RIBA council where I am now honorary treasurer. He also supported our company's Hammersmith Flyunder project (with West London Link Design). He was kind and modest in all his greatness. His works were beautiful and inspirational every time."
Ambassador Simon Manley, the UK's permanent representative to the WTO and UN in Geneva, tweeted a picture of Barajas, said: "RIP Richard Rogers, whose brilliant work (here at T4 in Madrid), will live on for generations to come."
Tributes from the profession and beyond
RSHP partner Tracy Meller:
It's a very sad day for @RSHParchitects and indeed across the profession as we have lost a great friend, architect and inspirational leader. His legacy lives on in all of us lucky enough to have worked with and learnt from him. Our thoughts are with his family and the practice. pic.twitter.com/f3Z79egP5N

— Tracy Meller (@tracy_meller) December 19, 2021
RSHP partner John McElgunn:
I will never forget first seeing Pompidou as a kid. I thought Lloyds was a space ship. It was a privilege to join Richard and team in 2001.
We will miss his guiding principles, his charisma, his style, his architecture, his politics, his drive and his parties. RIP Richard Rogers pic.twitter.com/68dkVoTbJE

— John McElgunn (@JohnMcelgunn) December 19, 2021
Grimshaw principal Angela Dapper:
RIP Richard Rogers. Just today I was giving the kids a city tour and was telling them how inspirational his buildings were. He shaped a generation of architecture and architects - and will always be an inspiration. Love to friends at @RSHParchitects 💔 pic.twitter.com/sLwQZ4SLIy

— Angela Dapper (@angela_dapper) December 19, 2021
Peter Barber, founder of Peter Barber Architects:
Richard Rogers was the most fantastic bloke….he really was….so charming and charismatic. He was very very kind to me.

— Peter barber (@PpeterPeter) December 19, 2021
Hana Loftus, co-founder of Hat Projects:
Very sad to hear of Richard Rogers' passing. What a huge contribution as a brilliant architect and as an advocate, making politicians and policymakers listen in a way that few architects achieve, or even, sadly, attempt. This is on my shelf right at hand, from 1992. pic.twitter.com/RDqUpNIQNw

— Hana Loftus (@hanaloftus) December 19, 2021
Renzo Piano Building Workshop:
British-Italian architect Richard Rogers passed away yesterday in London.⁠ We will always remember him for his deep and long-time friendship with Renzo Piano and his iconic buildings all over the world. Goodbye Richard!⁠ pic.twitter.com/l7rbBiaTct

— RPBW (@RPBWARCHITECTS) December 19, 2021
The foundation set up in memory of leading architectural visualiser Alan Davidson:
Another giant of architecture leaves us. Alan had started his career with Richard. he was an early client of @HayesDavidson when Alan ran it from his bedroom in Chiswick. Richard had advised him to get an office or « at least move the office to the lounge ». RIP Richard Rogers. https://t.co/6Iv1VPJIgg

— Alan Davidson Foundation (@ADFoundationUK) December 19, 2021
Writer and broadcaster Tom Dyckhoff:
Richard Rogers!! He seemed immortal. What a life! What buildings! What an impact! To me he was always less an architect, more a catalyst: for people, ideas, "getting stuff done".
He once told me he was proudest of two things: his company, and his family. Condolences to both.

— Tom Dyckhoff (@tomdyckhoff) December 19, 2021
Former RIBA president Ben Derbyshire:
The passing of a giant, never to be forgotten. @BBCNews fails to do him justice by headlining the Millennium Dome. His impact was so much more than his architecture. He inspired the Blair government to enact an #UrbanRenaissanc, and #CABE to drive quality. https://t.co/MNobiPknFy

— Ben Derbyshire PPRIBA FRSA HonAIA (@ben_derbyshire) December 19, 2021
Lara Kinneir, LSA tutor and ex-Design for London:
You relinquished your pay at the GLA so that a whole team could be born to drive #design in #London #government. I and so many others found their purpose as a #designer by joining this team. We will carry on driving design, remembering you all the way. #RIP #RichardRogers

— Lara Kinneir FRSA (@lara_kinneir) December 19, 2021
Charles Holland Architects founder and former FAT director Charles Holland:
Very sad to hear of the death of Richard Rogers. What a remarkable life. The Pompidou Centre and the Lloyds building are two of the most brilliant and audacious buildings ever.

— Charles Holland (@charlesjholland) December 19, 2021
The Welsh Parliament - Senedd:
We are saddened to hear of the death of Richard Rogers, architect of the Senedd building. Our thoughts are with his friends and family.

We thank Lord Rogers for his vision of our open and transparent parliamentary building. pic.twitter.com/aVGEtKuH8x

— Welsh Parliament (@SeneddWales) December 19, 2021
Designer and musician Trevor Jackson:
R.I.P Richard Rogers. When I was much younger I used to visit the city at night just to ogle at the most radical piece of architecture I'd ever seen, would spend hours admiring its intricate details. Later post clubbing we'd watch the rising sun reflecting on its sci-if curves. pic.twitter.com/Jm6oM5yayz

— Trevor Jackson (@trevorjofficial) December 19, 2021
Vicky Richardson, head of architecture at the Royal Academy:
A huge loss but also a chance to celebrate a heroic life. Richard Rogers was a true humanist who transformed architecture, cities and public life. pic.twitter.com/085mzlV7ou

— Vicky Richardson (@vcky_rchrdsn) December 19, 2021
Bartlett professor Sophia Psarra:
Among his many other achievements #RichardRogers focused on architecture's social role and the sustainable development of architecture and cities. RIP Richard Rogers pic.twitter.com/WyO22EuOW2

— Sophia Psarra (@SophiaPsarra) December 19, 2021
Public Practice associate Eleri Thomas:
So many lovely tributes to #RichardRogers today. I remember reading this in the library as a history undergraduate and realising that urban planning was actually a visionary, ambitious discipline, dressed up in bureaucracy and pretending to be boring. pic.twitter.com/YVmfqvh09t

— Eleri Thomas (@elli_thomas) December 19, 2021
Chris Romer-Lee, co-founder of Studio Octopi:
Remembering pilgrimages to London & Paris in as early as 1989 (pre degree) to stare in wonder at Lloyds & Pompidou. Even excursions to RRP Riverside office and those yellow sails. 6x4 prints from those days. #richardrogers pic.twitter.com/m1d2VY8JQy

— Chris Romer-Lee (@chrisromerlee) December 19, 2021
Alex Ely, founder of Mae:
He lit up the profession, his pioneering work, his contribution to civic society, his appreciation of the role of public space, his interest in sustainability, his bonhomie, his fluorescent shirts, unmatched, unmatchable, he will be missed. #RIPRichardRogers pic.twitter.com/RvlpdCgmyg

— Alex Ely (@AlexEly) December 19, 2021
May we all get a glimpse thru' these architects eyes. Richard Rogers, one of two architects immortalised by David Bowie https://t.co/Hri3VFL8oY

— Alex Ely (@AlexEly) December 19, 2021
More to follow
Send your tributes and memories to the newsdesk at elizabeth.hopkirk@bdonline.co.uk