Architects welcome pact as 'promising opportunity'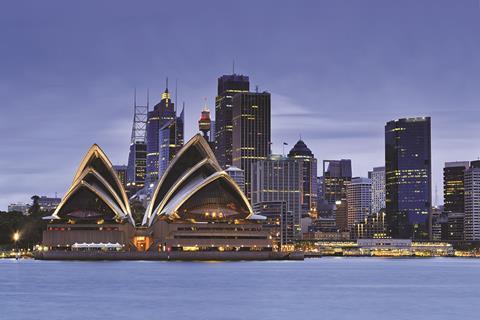 Architects have welcomed the trade deal between the UK and Australia as a "promising opportunity" for the profession.
The pact, finalised on Friday after being agreed in principle in June by the leaders of the two nations, will give British architects access to Australian work visas without being subject to its changing skilled occupation list.
It will also give UK firms "guaranteed access" to bid for an additional £10bn of Australian public-sector contracts each year without tariffs.
The UK government said the deal was a "gateway into the fast-growing Indo-Pacific region and will boost our bid to join CPTPP [Comprehensive and Progressive Agreement for Trans-Pacific Partnership], one of the largest free-trade areas in the world, covering £8.4tr of GDP and 11 Pacific nations from Australia to Mexico".
It will also allow young people to work and travel in Australia for up to three years at a time, longer than under previous visa conditions.
International trade secretary Anne-Marie Trevelyan said the "historic" trade deal was Britain's first from scratch since leaving the EU, when the UK lost simple access to European markets. It would set "new global standards in digital and services and creating new work and travel opportunities", she added.
Grimshaw global managing partner Mark Middleton, who is now based in Sydney, said the strengthening of ties between the two nations was a good thing.
He said: "It's great news for the architects, the UK and Australia. It means we will have recognition of qualifications which is a major breakthrough for UK architects going to Australia and vice versa. I think this will allow many more people to move between the two. The opening up of the visa process will also help this."
RIBA president and AHMM co-founder Simon Allford said the trade deal provided a "promising opportunity" for UK architects and practices to work internationally.
"From guaranteed access to visas and greater scope for young people to work abroad – both the UK and Australian governments rightly recognise the significant value of the profession," he said.
"Through discussions with ministers and MPs over recent years, we have been able to help inform the government of industry priorities and we now look forward to working with policymakers to optimise this opportunity and help progress a new agreement for the recognition of professional qualifications."