Towers by 3XN and KPF among those sent in
The number of planning applications sent into the City of London last month surpassed those lodged in November 2019 with corporation bosses hailing the news as a sign the Square Mile will return as a hotbed for office workers once the pandemic is over.
Since the national lockdown in March, the amount of planning applications received by the City of London Corporation has been steadily recovering.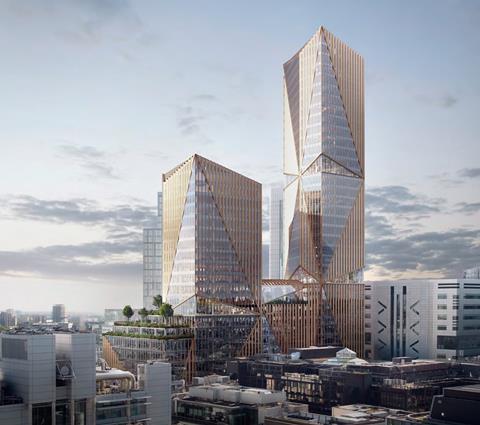 Autumn saw a rise in applications with the total number received in November amounting to almost 7% more than the same month last year.
Alastair Moss, chair of the planning and transportation committee at the City, said the numbers meant the Square Mile had not lost its lustre for would-be developers and tenants.
He added: "Confidence in the City remains robust. Businesses still require a central space where colleagues can meet to collaborate, innovate and socialise.
"The novelty of working from home is wearing thin for many, with workers increasingly keen to return to the buzz of the City."
Among the applications to have been received in November were plans for a 33-storey tower at 70 Gracechurch Street drawn up by KPF and British Land's long-awaited proposals for a 37-storey office tower at its Broadgate development by Danish architect 3XN.
Moss said the number of schemes being negotiated at the pre-application stage remains at a very high level indicating a strong pipeline for 2021.
To manage demand, the authority recently reinforced the planning department by recruiting additional City planners and introduced the new roles of a senior major projects officer, a planning delivery officer and a senior role focussing on sustainability.