British architects among finalists for German competition

Tate Harmer and Studio 8Fold are through to the final round of a German competition for a smart recycling factory.
The UK practices teamed up with German firms Architekturbüro Lindstedt and Rainer Schmidt Landschaftsarchitekten.
They are down to the last three teams. The other finalists are: Mosaik Architects BDA with GrünPlan Landscape Architects and Drewes & Speth; and Kleyer Koblitz Letzel Freivogel and BBZ landscape architects.
The competition is being held by the waste management company serving the north-west German district of Minden-Lübbecke which wants to turn the 84ha Pohlsche Heide Waste Management Centre into a hub for waste and recycling innovation. It intends to use landfill into a source of raw materials for a "smart recycling factory" as part of growing interest in the circular economy.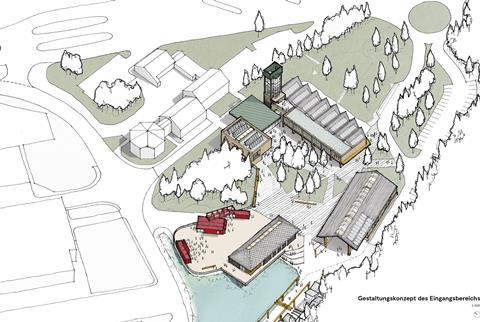 Tate Harmer's shortlisted proposal is for a facility with R&D facilities, classrooms and laboratories which seeks to shift society and the economy from the idea of a "single-use" – partly by inviting the public inside to see what happens.
In line with the sustainability message, the scheme proposes reusing existing fabric such as the old weighing station and road infrastructure, in what it described as a strategy of "plug'n'play".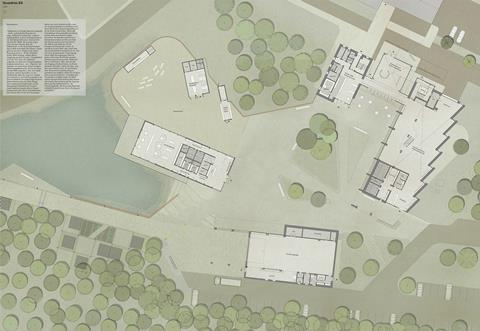 It would also enlarge existing water retention ponds to create new landscape features surrounded by forest.
"The buildings themselves look to integrate a series of sustainable building materials such as CLT structures and recycled materials for cladding, all combined with large rammed-earth walls which make use of the existing site's large clay deposits," said a spokesperson.

"The building materials and spaces are designed to inspire both visitors and staff, and to encourage effective collaboration between the future researchers and existing waste management."
A winner is expected to be chosen towards the end of the month.