Construction to start this summer on Sheffield flats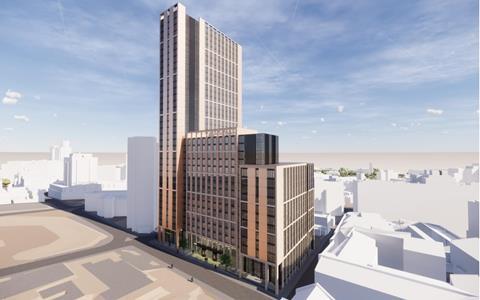 Sheffield council has approved a £100m development that will feature more than 1,000 homes and include the tallest tower in Yorkshire.
Designed by Staniforth Architects, the scheme will have three buildings of 12, 17 and 38 storeys.
At nearly 117m tall, the main tower would be taller than the 114-m Hume House scheme, designed by O'Connell East Architects
The scheme, for developer Code, will be located close to the city's large redevelopment project, Heart of the City II, on a site between Rockingham Street, Wellington Street and Trafalgar Street in the centre of Sheffield.
The existing buildings will be demolished and transformed into a co-living development with 1,230 apartments, varying from studios to one- and two-bedroom flats, aimed at students and young people.
There will be a 24-hour concierge, a courtyard, gym, cinema rooms, dance studios, cafes, retail units and communal space on the ground floor and the top floor of the 17-storey block.
Work on site is scheduled for this summer.