As inflation climbs, Aecom report finds main contractors don't want to be saddled with fixed-price work
London's biggest contractors are turning down the chance to bid half the schemes they are asked to price because of worries they will be lumbered with loss-making jobs.
A survey of Tier 1 and Tier 2 firms by Aecom found that the rate at which contractors priced jobs versus the number of schemes they were asked to bid sat at 49% last year – meaning over half of those asked decided not to bother sending in a tender.
In the previous two years, the rate was 75% – meaning a quarter of those asked decided not to send in bids – with the reasons given for their current reluctance being the jump in costs of materials and labour as well as a glut of work allowing them to pick and choose which jobs they bid.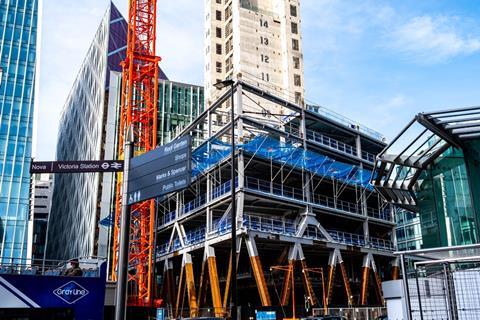 Aecom's report added: "Simply put, contractors and their supply chain will no longer accept blind risk or fail to price in the risk of a cost spike."
It said contractors don't want to fix prices because of worries they will be saddled with jobs where costs run out of control.
"Contractors told us they want to get involved on projects as early as possible, either via a two-stage or a negotiated procurement route," Aecom said. "This will allow them time to effectively manage their resources and secure the right trade contractors. A two-stage approach also allows inflation to be managed throughout the contract, rather than committing to a fixed-price upfront."
According to government figures, structural steel, rebar and timber all saw price increases of more than 50% last year while firms are also having to shell out more for labour.
The report added: "Even Tier 2 contractors, normally more amenable to single-stage, are feeling wary due to inflation risk. We expect less single stage procurement in 2022."
Aecom head of cost management and commercial Brian Smith said: "We'll see a move towards more two-stage hybrid and negotiated tenders this year as contractors look to engage with clients as early as possible to ensure that any risks are quickly identified. There is a much more considered approach to pricing, procuring and executing projects and a strive for more collaboration."
The move away from fixed price is being driven by the experiences of firms pushed to the brink signing up to jobs where costs have ballooned.
John Bell, senior partner at Clarke Bell Insolvency Practitioners in Manchester, said: "The sector is being hit by numerous issues including rising raw material prices, supply chain disruptions, historic debts built up during the pandemic, labour shortages and being tied to fixed-price contracts while the rate of inflation is rising.
"It is the combination of these factors that is leading to so many construction companies going insolvent and being liquidated."
Instead, contractors are looking to work with those clients offering pipelines of long-term repeat business with 90% of firms in Aecom's survey saying the client was the most important factor in deciding whether or not to submit a bid.
But the report warned that nervous clients, forced to put jobs on hold because of the ongoing effects of the pandemic or fresh worries about Brexit, could create a rush to win work at knockdown prices if too many jobs are stalled with contractors scrambling to top up order books.
The report suggested there was some hope this scenario could be avoided as Tier 1 firms have secured 85% of their targeted order books this year with this figure dropping down to 75% for Tier 2 firms. The numbers currently stand at 48% and 38% respectively for next year.
While the effects of the pandemic remain, contractors say Brexit is now a bigger risk to their business than covid-19 in the coming year.
Brexit was named by 47% of firms as being the greatest business threat in 2022 compared to the 42% who said coronavirus. And 32% of firms are experiencing "significant" effects from Brexit compared to the 11% who said the same thing about the pandemic.