Draft bill confirms new Building Safety Regulator and reduction of building control powers
The government has published draft legislation setting out details of how new building regulations intended to prevent another Grenfell disaster will be implemented in practice.
The draft Building Safety Bill, which was published yesterday, confirms the appointment of a new Building Safety Regulator which will regulate all residential buildings over 18m high with a consequential reduction of local authority building control and approved inspector powers.
The bill also sets out a new competence framework for anyone designing, building or inspecting a high-rise residential building and new rules to ensure buildings are regularly inspected and remain safe during occupation.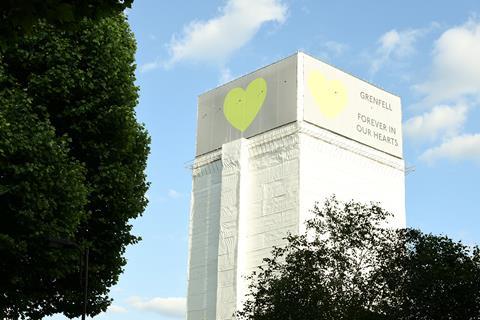 Other changes include tougher sanctions including up to two years in prison and unlimited fines for breaches of building regulations.
The bill incorporates a provision allowing the secretary of state to apply the new rules to other building types in the future.
The 334-page Building Safety Bill follows on from the government response to a consultation called 'Building a safer future' which was informed by the findings of Dame Judith Hackitt's review after the Grenfell fire.
The bill includes most of the government's earlier proposals and details of how the new building safety system will work in practice. It also sets the changes needed for the new legislation to dovetail with existing legislation including the Building Act 1984.
The bill includes major changes to the powers of local authority building control departments and private approved inspectors to regulate high rise residential buildings.
The Building Safety Regulator (BSR) will become the building control authority for all work on high risk buildings. It will regulate local authority control and private approved inspectors who will be known as 'building control authorities' and 'building control approvers', respectively.
There will be a unified professional and regulatory structure operated by the BSR for all building control bodies. This answers a long running complaint that local authority building control and approved inspectors were subject to different professional standards.
Developers will no longer be able to appoint their own building control body, instead the BSR will appoint a registered building inspector to help enforce building regulations. The inspector, which is a new role, will be supported in the day to day regulation of high risk buildings by building control authorities and building control approvers.
The news will come as a relief to approved inspectors as earlier proposals suggested they would only be able to support local authorities. The bill also includes a provision to prevent public bodies from carrying out the building control function on their own work.
Other changes include giving the Architects Registration Board the power to monitor the competence of architects on its register and remove those who do not come up to scratch. New construction product safety rules include the power to take unsafe products off the market. The bill also includes further details of the new homes ombudsman who will have the power to compel housebuilders to join the scheme with sanctions for poor quality workmanship.
Hackitt, whose review into building safety after the Grenfell fire forms the basis of the new laws, has given the bill her approval: "It meets the ambitions and recommendations set out in my review."
The Building Safety Bill will be subject to scrutiny over the summer with any amendments incorporated into it before being presented to parliament in the autumn. It is expected that the bill will receive royal assent next year. Many elements of the bill will need secondary legislation that will be implemented after 2021 which means the new building safety system may not take effect for another four years.
Key points of the Building Safety Bill
Building Safety Regulator (BSR)
Oversees the regulation of all high-risk residential buildings. It will include three statutory committees:
Building advisory committee which replaces BRAC and provides expert, technical advice
Committee on competence. Oversees, monitors and advises BSR on competence
Residents panel from higher risk buildings, BSR must consult this committee before issuing new guidance.
Dutyholders
Appointed under CDM regulations and responsible for complying with building regulations:
Client
Principal designer
Principal contractor
Designer
Contractor.
Accountable person
The dutyholder during occupation with ongoing responsibility for building safety. Required to engage with residents
Building safety manager
Supports the accountable person in the day to day management of fire and structural safety.
Gateways
Planning gateway
Needs a Fire Statement
BSR becomes a statutory consultee for high risk buildings at planning stage
Work carried out using permitted development rights not subject to this gateway, the development goes straight to the construction gateway.
Construction gateway
Full plans approved and signed off by the BSR before work starts.
Completion gateway
All information including the golden thread handed over to the accountable person. This is approved by the BSR who issues a completion certificate.
Enforcement
Building Act 1984 amended so the time limit for prosecutions for non-compliance with regulations is extended from two to 10 years and one to 10 years for correcting non-compliant work.
Penalties include up to two years in prison with unlimited fines. The Bill includes powers of entry to gather evidence. BSR can also suspend and prosecute below par building control bodies.