Family and colleagues gather as Lloyd's honours architect of its HQ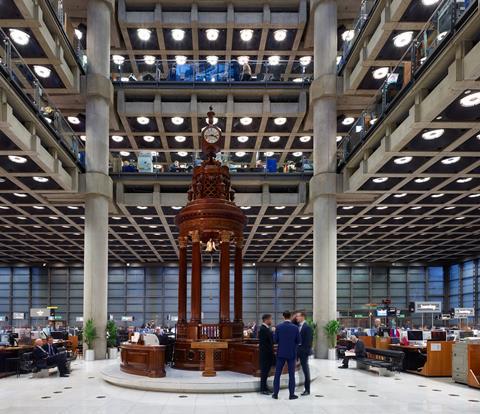 Ivan Harbour described Richard Rogers as the practice's inspiration, champion and compass at a ceremony to honour the RSHP founder.
Family and colleagues gathered in the vast underwriting room at Lloyd's of London, one of his earliest projects, to hear the Lutine Bell rung in Rogers' honour. He died on Saturday aged 88.
The bell, salvaged from one of Lloyd's most famous insurance claims the HMS Lutine, was once rung every time a ship sank or made it safely to harbour but is now only sounded on ceremonial occasions.
The bell was rung once – traditionally it was rung once for bad news and twice for good – after speeches and a short silence. The practice described it as a "wonderful gesture".
Lloyd's chair Bruce Carnegie-Brown said: "Every design carries some trace of its designer and Richard's ideas, values and vision are eminently visible in the building we see today. One Lime Street continues to be more than just a building – it is a home, not just for us but for the 5,000 daily visitors who were coming through the doors prior to the pandemic." (See full speech below)
Ivan Harbour, whose name was added to Rogers' practice, along with that of Graham Stirk, in 2007, said: "I'm overwhelmed to be here in this awe-inspiring place to mark the passing of the most influential architect of his generation.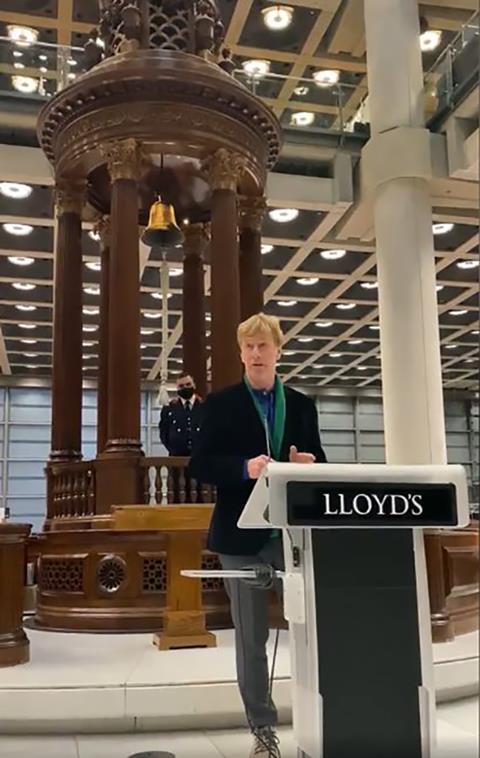 "Richard was always adamant that great buildings can only be created with visionary clients. Lloyds were an exceptional client.
"This building formed the start of Graham's and my career but cemented the brilliance of the architect who conceived it, Richard Rogers.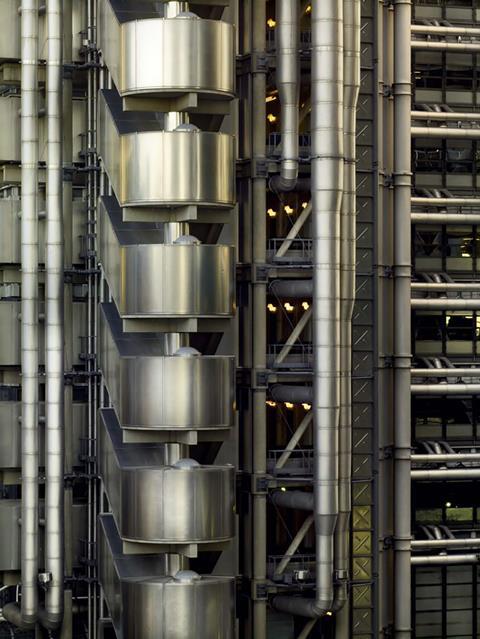 "It also marked the beginning of a practice formed around Richard's philosophy on life and architecture. A philosophy that still guides us 40 years on.
"Ruthie, today our thoughts are with you and your family. Our memories are with Richard. He remains our inspiration, our champion, the epitome of kindness and generosity, our friend, our compass."
Yesterday afternoon, we rang the Lutine Bell to remember the life of Richard Rogers.

His immense vision and skill created the iconic Grade I listed Lloyd's Building.

We were honoured to be joined by his closest friends and family.@RSHParchitects #LloydsPeople @BNCB pic.twitter.com/BN6xaOgaBW

— Lloyd's (@LloydsofLondon) December 21, 2021
Meanwhile tributes continued to pour in from around the world.
Nigel Webb, head of development at British Land was the developer on the Leadenhall Building – aka the Cheesegrater – opposite Lloyd's, which was designed by Rogers Stirk Harbour & Partners.
He said: "I had the privilege of working closely with Richard on the building. An architectural genius who demonstrated great humility, he was a delight to work with."
Webb added: "I will always remember Richard asking if the goods lifts in the building, which are visible from the exterior, could be coloured in his favourite light green to match his often worn shirts. A lovely personal touch, which I was more than happy to agree to. My thoughts are with his family and friends."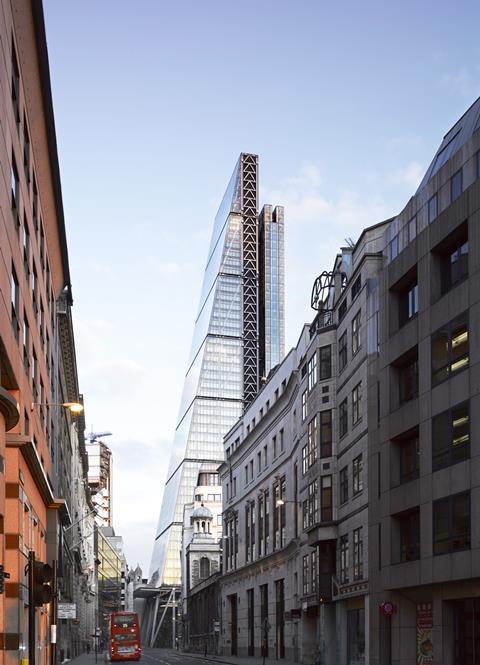 Rogers' former PA at RSHP wrote on LinkedIn: "Richard's warmth and compassion nearly outshone his colourful clothes. We've lost a legend, who not only left a profound stamp on the world with his buildings, ideas and collaborations but who could easily leave a life-long imprint with any one who was fortunate enough to catch a conversation with him…. Colleague, Cab Driver, Student, CEO… I'm absolutely privileged to have closely assisted him for eight years. The most inspirational and wonderful boss in countless ways."
Sumita Singha, founder of Ecologic Architects, said: "Apart from being one of the greatest architects of the world and an innovative disruptor, I will always remember Richard Rogers as a kind human being. Struggling with two small children- one a baby in a buggy - at Vienna airport, he just carried my younger son in his arms while I walked with the folded buggy and my older son to the aircraft. Managed to have a great conversation aboard - despite the very active toddler, who he managed to calm down with his warm smile."
Michel Mossessian, founder of Mossessian Architecture, wrote: "Richard Rogers was possibly my most influential teacher, made every day of my life then to be who I am now. He taught me with Pompidou centre, I was 17 in 1977, and enrolled 20 of my classmates to get a free pass in return, to spend all my free time in the factory of culture, full days when not in school, at the library, CCI, museum, cinematheque and the IRCAM. The building shaped my days and it lasted for many years until I moved to New York. Later in 1994, we were together presenting our views on ParcBit in Mallorca, we were both on the same page, speaking differently from the other 10 architects invited from around the world. Buildings change and shape our minds and behaviour. Richard did."
Global practice SOM, where Rogers briefly worked in San Francisco before returning to the UK to establish Team 4, wrote: "SOM mourns the loss of Richard Rogers, an esteemed architect whose work extends beyond buildings, speaking to the broader responsibilities of architecture to society. The buildings he designed reflected an honesty of both social and structural expression… He created a new and exciting architecture, and led a generation that changed architecture forever. We are grateful to have had the opportunity to work alongside him, both in our studios and as peers. Our thoughts and condolences are with his family and his colleagues."
Many remarked on Rogers' shocking report card from the AA which failed him in almost every subject long before he discovered he was dyslexic.
Artist and architecture podcast host Hamza Shaikh wrote: "Sir Richard Rogers - failing at university, goes on to become one of the greatest architects of all time. He only passed 'services' in his course showing that your one strength at university can go on to define you even if all else fails. Students, make the most from your university experience. Enjoy it, experiment, and find yourself. Don't worry about top grades, don't fret if you don't know everything about everything. Remember that your role in the professional world is defined by you and the value/hard work you bring to the areas that interest you. Rogers' legacy will live on."
Speech by Bruce Carnegie-Brown, chairman of Lloyd's of London
This building has been at the centre of the action for over three decades, serving many functions since its completion in 1986. It is a bustling hub for London's financial district. It is the beating heart for the Lloyd's market and the wider insurance sector and it's a brave harbinger for Britain's position on the world stage. We are very grateful to have made it our home, and most of all today we are grateful for the architect who made it possible.
Every design carries some trace of its designer and Richard's ideas, values and vision are eminently visible in the building we see today. One Lime Street continues to be more than just a building – it is a home, not just for us but for the 5,000 daily visitors who were coming through the doors prior to the pandemic: brokers, underwriters, history fanatics, schoolchildren, friends and relatives.
We look forward to the return of that buzz for which the building was so elegantly designed. But in the meantime we thank Richard for his vision and his values. He will be remembered as the man who challenged the norm, as the best innovators do, who divided opinion, as the best artists do, and who inspired others, as the best leaders do. Today as we stand in his iconic space we pay our respects to the pioneer behind the plans.