Lloyd's to enact historic ritual for architect of its grade I-listed HQ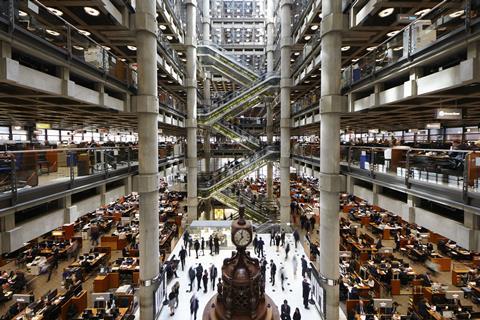 Lloyd's of London has announced it will sound the Lutine Bell today in honour of Richard Rogers, the man who designed its world-famous headquarters.
Members of the architect's family and colleagues have been invited to attend the ceremony in the underwriting room this afternoon. It was a ritual he was said to love.
Rogers, one of the greatest architects of the post-war era, died on Saturday aged 88, just over a year after stepping down from the practice he founded more than 40 years ago.
The bell, which is now only rung rarely, was salvaged from HMS Lutine, whose shipwreck in 1799 was one of Lloyd's largest and most famous claims, cementing its reputation for being able to settle any claim.
The bell was retrieved from the wreck in 1858 and erected in the underwriting room where it was rung every time news of an overdue ship reached the City – once if the ship was lost and twice for a safe arrival – so that all the underwriters heard the news at the same time.
In recent years it has only been rung on ceremonial occasions such as Armistice Day or to mark a major disaster such as 9/11.
A Lloyd's spokesperson said: "The bell is only rung ceremonially, for instance on Armistice Day or when significant people in Lloyd's history pass away."
In recent months it has been rung to mark the unprecedented closure of the underwriting room forced by the covid lockdown last year and to honour David Rowland, the late Lloyd's chairman who guided the institution through the financial crisis that engulfed it in the 1980s and 90s.
In a statement Lloyd's said: "We are extremely saddened by the passing of Richard Rogers, architect of the grade I listed Lloyd's building in London. As a mark of our deep respect, we will remember Richard's life and ring the Lutine Bell, an emblem of Lloyd's he was known to love."
The Lloyd's Building was Rogers' first major project after the Pompidou Centre. It opened in 1986 and was listed in 2011, when it was the youngest building to be given grade I protection.
Rogers Stirk Harbour & Partners (RSHP) is now based opposite the Lloyd's building in the Cheesegrater which it also designed.