Deconsecrated Islington church on heritage at risk list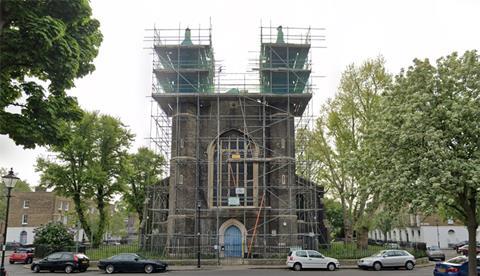 Richard Griffiths Architects has been appointed to design the £6.5m rescue of a grade II*-listed deconsecrated church in north London.
Holy Trinity Church was designed by Charles Barry in 1829 and remains the focus of Cloudesley Square in Barnsbury, Islington. It was built on part of two "stony fields" donated by a 16th-century local benefactor, Sir Richard Cloudesley, and is said to be modelled on Kings College Chapel, Cambridge.
However the building, which was vacated by a Nigerian Pentecostal church in 2018 and returned to the Church of England, is in a "very bad" state of repair, according to Historic England which placed it on its Heritage at Risk register.
The diocese wants to turn it into the Cloudesley Centre with community facilities and office space for charities.
It held an invited competition for an accredited conservation architect which resulted in three bids ranging from £407,000 - £911,000.
The Ojeu notice said it sought "architect-led multi-disciplinary design services to develop the repair, restoration and re-purposing of a grade II*-listed church … a significant heritage asset … and also ensuring the sustainability of the project through income-generating uses and to deliver a programme of community uses".
The work is due to complete in 2022.