McGonigle McGrath, David Kohn, Surman Weston, and Will Gamble in running for 2022 accolade
RIBA has released the 20-project longlist for its House of the Year Award 2022, which features homes by McGonigle McGrath, David Kohn, Surman Weston and Will Gamble Architects.
McGonigle McGrath won the 2019 award with tight-budget dream-home House Lessans, in County Down, Northern Ireland. The practice's 2022 entry – House at Lough Beg – has already won a RIBA National Award and been named Northern Ireland's house of the year by the Royal Ulster Society of Architects.
Three other House of the Year longlist entries picked up a RIBA National Award last month: Haysom Ward Miller Architects' Suffolk Cottage extension and refurbishment project; Surman Weston's new-build Surbiton Springs detached house in south London; and Will Gamble Architects' Parchment Works remodelling of a grade II-listed 17th century factory and old cattle shed in Northamptonshire.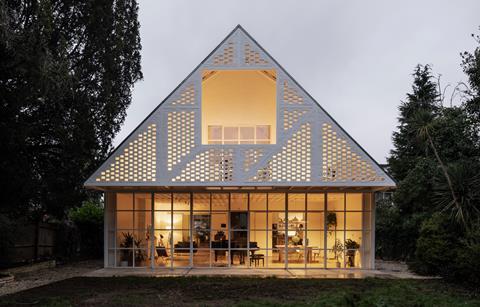 Sandy Rendel Architects was shortlisted in 2021's House of the Year Awards for its Slot House in south London. This year the practice makes the longlist with its residential conversion of a 1930s Dutch barn in West Sussex, which was shortlisted in RIBA's South East awards earlier this year.
David Kohn Architects also makes the House of the Year longlist with its Red House family home in rural Dorset, described by the practice as "inspired by English houses from the arts and crafts to the Smithsons".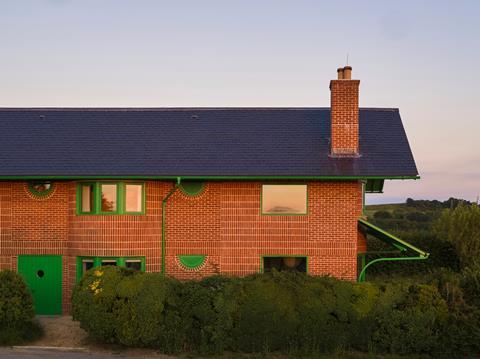 Elsewhere on the list is Paper Igloo's striking black timber-clad eco-home, Ostro Passivhaus, in rural Stirlingshire, which was inspired by the designs of Charles Rennie Mackintosh, and McMahon Architecture's four-storey Leyton House home in Waltham Forest, north-east London.
The shortlist for the awards – and the eventual winner - will be revealed as part of the Channel 4 TV show Grand Designs: House of the Year, starting in the autumn.
Full longlist: RIBA House of the Year 2022
:: Derwent Valley Villa, Derbyshire, by Blee Halligan
:: House at Lough Beg, Northern Ireland, by McGonigle McGrath
:: Leyton House, London, by McMahon Architecture
:: Mere House, Cambridgeshire, by Mole Architects
:: Mews House Deep Retrofit, London, by Prewett Bizley Architects
:: Mountain View, London, by CAN
:: Norfolk Barn, Norfolk, by 31/44 Architects and Taylor Made Space
:: Ostro Passivhaus, Scotland, by Paper Igloo
:: Peeking house, London, by Fletcher Crane Architects
:: Ravine House, Derbyshire, by Chiles Evans & Care Architects
:: Seabreeze, East Sussex, by RX Architects
:: Suffolk Cottage, Suffolk, by Haysom Ward Miller Architects
:: Surbiton Springs, London, by Surman Weston
:: The Cowshed, Dorset, by Crawshaw Architects
:: The Den, Scotland, by Technique Architecture and Design in collaboration with Stallan-Brand
:: The Dutch Barn, West Sussex, by Sandy Rendel Architects
:: The Garden Studio, Norfolk, by Brisco Loran and James Alder Architects
:: The Library House, London, by Macdonald Wright Architects
:: The Parchment Works, Northamptonshire, by Will Gamble Architects
:: The Red House, Dorset, by David Kohn Architects