Oxford council approves proposals for new graduate facilities on the site of grade I Arne Jacobsen campus
Purcell Architects has won planning permission for a new phase of development on the campus of Arne Jacobsen's grade I-listed St Catherine's College in Oxford.
Its proposals will deliver a new graduate centre with 78 student bedrooms, a new Middle Common Room and a seminar room, through the introduction of four new pavilions on the site.
Jacobsen designed the college's main campus in its entirety, with his approval required for the landscape gardening, furniture, the cutlery and the species of fish introduced to its ornamental ponds. It was built between 1960 and 1964.
Since Jacobsen's death in 1971 additional buildings have been delivered by the Danish architect's assistant, Knud Holscher, and Stirling Prize-winning RIBA past president Stephen Hodder.
Purcell's design, approved by Oxford council earlier this month, builds on the second phase of Hodder's work and is described by the practice as following his typology "as sensitively as possible" for the expansion, which the college said used up its "last available" development space.
Three of the four new buildings will provide graduate accommodation; the fourth – the graduate centre – is a bronze-clad cylindrical structure that references Hodder's use of stainless steel.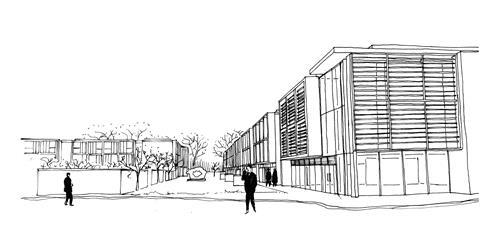 Purcell senior architect Matthew Tromans said that at three storeys, all of the new buildings were the same height as the other buildings on the site, and used the design grid that permeated the campus.
"It is hugely rewarding working with St Catherine's College on this exciting project," he said. "They have a wonderful architectural legacy of which they are proud custodians.
"This design continues the established visual language at St Catherine's, sensitively extending Hodder's earlier works.
"The graduate centre references both Hodder and Jacobsen's work, being purposefully 'new', yet of its place."