Practice says delivery of 23,200sq m brewery base is 'well under way'
CF Møller has revealed new images of the headquarters it has designed for global brewing giant Carlsberg which forms part of a huge regeneration scheme in Copenhagen.
The 23,200sq m building is in the northwest corner of Carlsberg Byen, where the brewery was based until large-scale operations ended in 2008.
A swathe of redevelopment – including around 600,000sq m of new residental and work space – is currently planned for the Carlsberg Quarter site. It will sit alongside retained heritage buildings, including the Elephant Gate & Tower, the Dipylon, the Carl Jacobsen House and the Carlsberg Museum.
One of the three wings of Møller's new headquarters building forms a bridge over a main access route to the quarter, while the other two wings "embrace" Carl Jacobsen's historic garden and villa.
Its central atrium runs through all floors of the building, and each floor has a communal area that opens out on to it.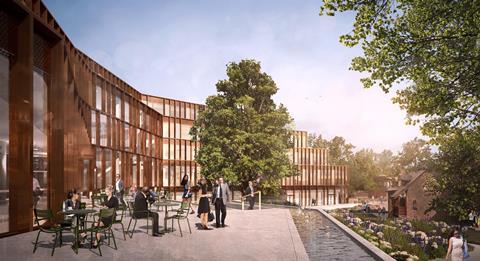 Møller said the design "gathers all the office sections, both vertically and horizontally, so that all the departments are experienced as one single working community, reinforcing collaboration, knowledge sharing and innovation".
The headquarters building's façade features large glass panels divided by vertical slats covered in recycled copper, which are designed to hark back to the fine copper detailing of the brewery site's historic buildings.
Møller said the headquarters building topped out in the spring, but did not give a completion date for the project.