Kansas-based practice behind string of Premier League jobs now part-owned by US investor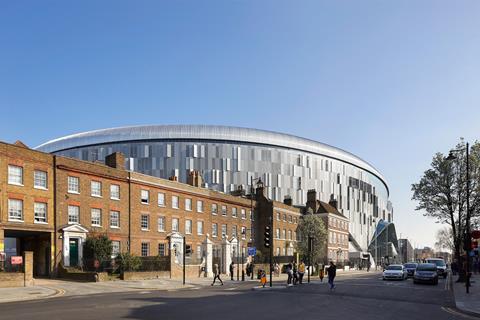 A US private equity firm has taken a stake in Populous, the architect behind a string of new stadia for Premier League clubs including Arsenal and Tottenham Hotspur.
The firm, which is also behind a £300m plan to extend Manchester City's Etihad ground, set to be built by Sisk after Laing O'Rourke failed to agree a price, said Rhode Island-based Providence Equity Partners had acquired a "strategic minority investment" in the business.
In a statement, Populous said: "Populous and Providence anticipate the investment will support Populous' continued growth and allow the company to pursue opportunities to expand its service offerings and geographic presence for the benefit of clients, partners and its workforce around the globe. Populous will continue to be led by one of its founders and global chair, Earl Santee, and its existing leadership."
Explaining its decision to fork out for an unspecified stake in the firm, Providence managing director Scott Marimow said: "We believe Populous is well positioned for continued, sustainable growth and will benefit from consumer demand for live entertainment and increased infrastructure investment by venue owners seeking to create new and innovative environments and experiences."
Populous was formed from a management buyout at the start of 2009, having emerged from HOK Sport and Australian firm LOBB, set up by Brisbane-born architect Rod Sheard, who recently retired as chairman. Those two firms merged in 1998 ahead of winning the job to redesign Wembley, with its signature arch designed by Foster & Partners, a year later.
Its main base is in Kansas City and the firm employs around 965 people globally. Around 450 are employed in the US with 290 in the UK and a further 230 in Asia Pacific.
The firm has 26 offices around the globe and three regional businesses – the Americas, Europe and Middle East and Asia Pacific. Its London office is headed up by Chris Lee, the managing director of its Europe and Middle East arm, who also sits on the global board.
The firm had a global revenue of £100m last year and this is set to go up more in 2023, with turnover in the UK predicted to jump by around a third to £40m.
Around 80% of its global workload is in the sport and entertainment sectors and other jobs in the UK have included a new stand at Fulham's Craven Cottage ground, the Co-op Live Arena in Manchester – a 23,500 capacity venue being built by Bam that is due to open next spring.