Successful line-up includes microbusinesses as well as Arup, Alison Brooks and Turner Works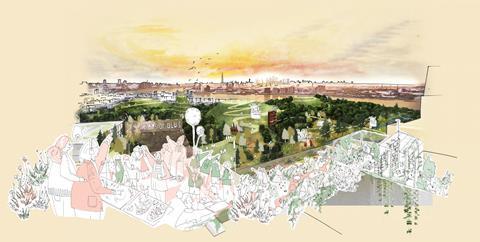 A team led by Prior & Partners and Arup has won the £8bn competition to design a new neighbourhood at Thamesmead in south-east London.
The successful line-up of designers and planners, which includes Alison Brooks Architects and JA Projects, will be appointed as strategic masterplanner for the site which covers more than 100 hectares.
The winners were selected from a shortlist featuring Allies & Morrison, Jas Bhalla Architects, Studio Egret West, Studio Weave, Mikhail Riches, Mary Duggan Architects, William Matthews Architects and ZCD Architects.
The high-profile competition, run by Colander for a joint venture between Lendlease and Peabody, was the biggest in the housing association's 158-year history.
It will provide at least 11,500 new homes plus commercial and leisure space across more than a mile of undeveloped river frontage at the sprawling estate made famous by the film A Clockwork Orange.
In a statement issued today the client said: "A unique project of this size demands new perspectives and ideas, and the team was selected on the basis of its impressive approach to collaboration – offering the opportunity to combine the large-scale delivery expertise necessary for such an ambitious project, with the diversity of thought and innovation possible from a broad range of specialist partners."
The client was keen to emphasise the diversity of the team and especially the fact it was giving opportunities to small businesses, some of them local. It said: "Of the proposed core team, 12 are SMEs, 10 employ less than 30 people and five are microbusinesses employing less than 10 people. Three are based outside the UK and are industry-leaders pushing boundaries in innovation and placemaking in northern and western Europe."
The full team, detailed below, includes established architects Alison Brooks, Marc Koehler and Carl Turner who, it said would bring innovation in the design of homes and neighbourhoods, as well as newcomer Jayden Ali of JA Projects.
Jason Prior, founder of Prior & Partners said the team was thrilled to have been chosen.
"Thamesmead Waterfront has the potential to exemplify the best of what can be achieved when communities are conceived around strong principles of social value and natural resilience," he said. "The selection process has allowed our diverse team to explore this potential through a challenging dialogue with Peabody and Lendlease and we are delighted to have been selected to help shape the next stage in Thamesmead's evolution."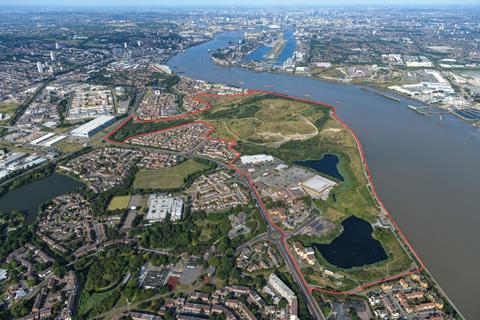 Sowmya Parthasarathy from Arup said: "The aspiration for Thamesmead Waterfront demands that we rewrite old rules on how to design and deliver a truly resilient and sustainable place. I am thrilled to be bringing Arup's integrated design expertise to a project that will set the standard for how net-zero neighbourhoods will look, feel and function."
Peabody's executive director for Thamesmead, John Lewis, said the JV had developed a set of principles to guide the masterplan which include enhancing the landscape, creating a stable and sustainable neighbourhood with affordable and high-quality homes and workplaces, along with improving transport connections to central London.
Shortlist
Winner: Prior & Partners (with Arup; West 8; The Place Bureau; Alison Brooks Architects; Turner Works; Marc Koehler Architects; JA Projects; Schulze&Grassov; Soundings; and Sage Culture).

Allies and Morrison with Jas Bhalla Architects; SLA; Ramboll; Montagu Evans; and Frances Holliss.
Studio Egret West & Cobe (with Dark Matter Labs; Studio Weave; Freehaus Design; Yinka Ilori Studio; AKTII; Hilson Moran; and Biomatrix Water).
Urban Orchestra led by Tibbalds Planning and Urban Design, Mikhail Riches, Haptic and Expedition with Create Culture; Gardiner and Theobald; Gibson Thornley; GS Solutions; Innovation First; Kjellander Sjöberg; LOLA; Madeleine Kessler Architects; Mary Duggan Architects; Nick Elias Studio; Nordic – Office of Architecture; William Matthews Architects and ZCD Architects.
White Arkitekter (Publica; Tredje Natur; Central Saint Martins; Public Works; Bohn & Viljoen; Buro Happold; GL Hearn; and Aurora).
Source: Peabody