Commission to deliver policy recommendations for brownfield planning later this year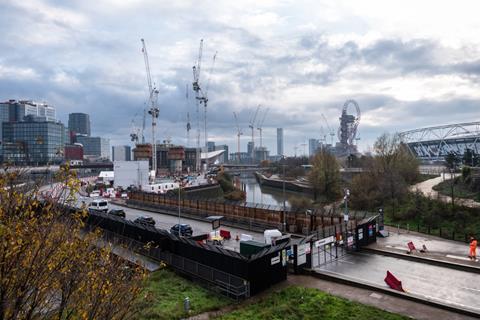 A group of planning and urban design experts are launching an investigation into new ways of using London's industrial land.
Centre for London, a think tank, has convened a board of 13 commissioners, including We Made That partner Holly Lewis and former GLA head of design for London Mark Brearley, to provide fresh ideas for the future of the capital's industrial brownfield sites.
It comes amid a boom in internet sales because of the pandemic, with take-up of grade A industrial space leaping by 64% in 2020 compared to 2019, according to real estate consultant JLL.
The Industrial Land Commission, which is chaired by Old Oak and Park Royal Development Corporation chairman Liz Peace, will meet four times over the next four months.
It will provide a report later this year containing policy recommendations on reforming planning policy for industrial land.
Full list of commissioners
Mark Brearley, Director, Kaymet London Limited
Andrea Charlson, Senior Advisor, ReLondon
Jessica Ferm, Associate Professor, Bartlett School of Planning, University College London
Stefania Fiorentino, Associate Member of the Cambridge Centre for Housing and Planning Research, University of Cambridge
David Francis, Director, West London Alliance
Caroline Harper, Chief Planning Director, Be First
Neil Impiazzi, Partnerships Development Manager, SEGRO
Paul Lewin, Planning Policy and Projects Manager, LB Brent
Holly Lewis, Partner, We Made That
Gerald Mason, Senior Vice President, Tate & Lyle Sugars
Rob McNicol, Acting London Plan Team Manager, Greater London Authority
Martyn Saunders, Director, Planning, Development and Regeneration, Avison Young
Liz Peace, Chair of Trustees, Centre for London
Segro partnership development director Neil Impiazzi, who is on the commission, said that the public and private sectors needed to work together to address the challenges of intensifying brownfield land.
"The last 12 months in particular have demonstrated the vital role that businesses which need industrial and logistics space in our cities play in helping our society function effectively.
"We need to recognise the importance of the sector as well as drive innovation and collaboration to make the most of the limited land available. The public and private sectors need to work together to address the challenges of intensifying brownfield land and delivering industrial mixed use."
The commission is being backed by the London boroughs of Barking & Dagenham, Brent, Ealing, Enfield and Southwark.
The Industrial Land Commission will explore questions including:
What role does industrial land play in London's economy – from jobs to logistics, to sustainable city servicing. How has this changed and how is it likely to change in the future? How should we assess the trade-offs with other uses?
What are the opportunities to intensify industrial land or combine it with other uses? What new models of intensification and multi-use are or could be, developed?
How should industrial land planning policy be strengthened and reformed? What can local, regional and national government do, beyond planning policy, to support optimal use of industrial land?