East London scheme is a "UK first" says Stirling Prize-winning practice
Haworth Tompkins has completed a multi-storey development of light industrial units at Barking, in east London, in what the practice says is a first-of-its-kind in the UK.
The project, named "Industria", contains space for 45 businesses over four floors at the scheme, which features two linear wings arranged on either side of three levels of 26m-wide service decks.
Industria was designed to provide space for a wide range of light industry, with units ranging from 20sq m to 450sq m. A 30m-diameter helical ramp gives vehicle assess to all floors. In total, the scheme delivers around 11,400sq m of floorspace.
It also integrates a range of sustainability features, including 2,000 sq m of photovoltaic solar panels on the roof.
Haworth Tompkins, which won the Stirling Prize in 2014 for its Liverpool Everyman theatre, designed the scheme for BeFirst, the London Borough of Barking and Dagenham's regeneration company.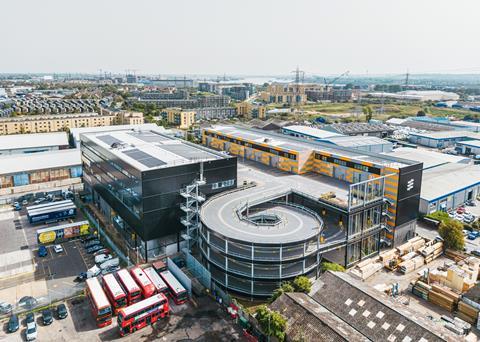 The practice collaborated with industrial specialist Ashton Smith Associates and branding agency DNCO.
Haworth Tompkins director Graham Haworth said Industria was a direct response to the loss of industrial land in the capital and the need for greater urban density.
"Our project provides a model for sustainable industrial intensification, emphasising accessibility, functionality, and a strong identity that links it to Barking and Dagenham's rich manufacturing heritage," he said.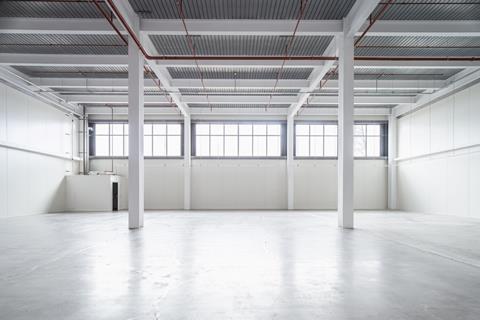 "Industria's provision of shared amenities alongside flexible, high-quality workspaces will help foster a sense of community among the many businesses based here."
DNCO innovation director Patrick Eley said the scheme's "new industrial typology" had required an "energetic graphic identity".
He said the brightly patterned façade was a "bold take on the industrial graphic aesthetic" that reflected the space's flexibility for makers and creators of all scales.

Eley said the helical logo designed for Industria was derived from the vehicle ramp at the heart of the scheme.
BeFirst senior development manager Alex Peck said that in addition to being a UK first, Industria was the first new development in the capital to embrace policy on multi-storey industrial schemes from the New London Plan.
Industria sits in the River Road Employment Area next to the A13 and near to the new Barking Riverside Station. Haworth Tompkins designed the masterplan for the area.
McLaren Construction Group was contractor for the project.