Firm completes school on site of Barnet FC's notoriously uneven former ground
Pick Everard has completed a new secondary school on the site of Barnet FC's former north London stadium, where the pitch was infamous for its significant slope.
The practice has delivered a £25m building with space for 1,200 pupils for Ark Pioneer Academy on the former Underhill Stadium site.
Barnet FC, which currently plays in the National League – the fifth tier of English football, moved from Underhill Stadium to a new base in Edgware in 2013. The government's Education & Skills Funding Agency bought the site in 2015 to address an urgent need for school places in Barnet.
Pick Everard director Steve Cummings said the new school featured 26 classrooms, dedicated music rooms, ICT facilities, workshops, performance space and a sports hall.
"The site is rich with history as it was used by Barnet FC for more than a century before the club moved to its current home at The Hive," he said.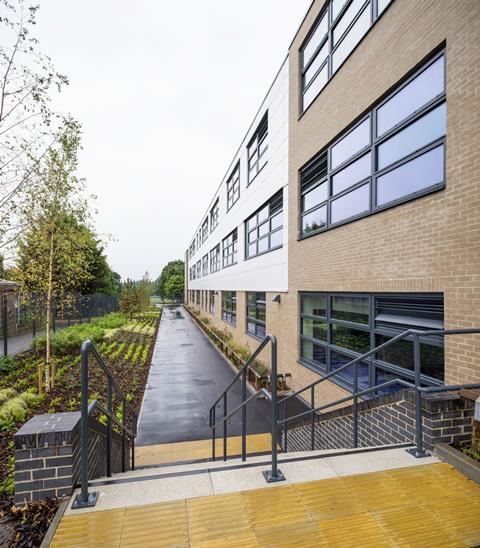 "The original stadium was well known for having a football pitch that dropped 11ft from one end to another and the new building makes use of this existing site topography by providing learning accommodation through a series of split levels.
"The building is also positioned on a north-south axis, ensuring that classrooms can acquire optimum levels of daylight for teaching, without over-lighting."
The school takes in its first pupils this month.