Seven-block development features towers up to 225m high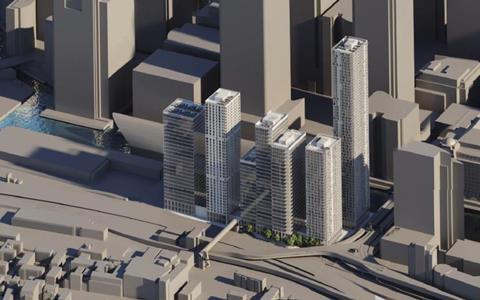 Allies & Morrison has been given outline planning permission for a huge mixed-use scheme in Canary Wharf including towers up to 65 storeys high, Building Design can reveal.
The North Quay scheme on the northern edge of the Isle of Dogs will consist of seven blocks if given final sign-off.
It includes a 225m-tall residential tower and a 53-storey student accommodation block rising to around 180m, along with a 38-storey office tower topping out at more than 160m.
Other buildings include another residential tower with 36 storeys, a second office block rising to 32 storeys, a 17-storey co-working office and a six-storey retail block.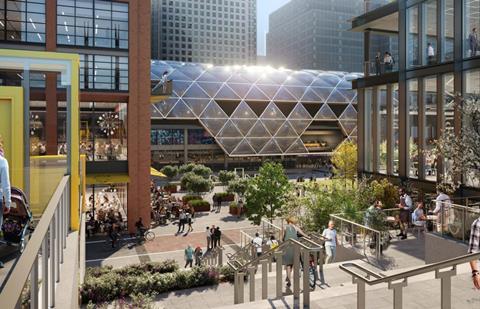 In total, the development provides up to 240,000sq m of office space, 150,000sq m of residential space, 100,000sq m of student accommodation space, 150,000sq m of retail and 25,000sq m of public realm.
The scheme, which is located immediately to the north of the Fosters-designed Crossrail station due to open to passengers next year, would extend Canary Wharf's cluster of towers more than 100m north into Poplar.
First unveiled in January 2020, the planning application was lodged with Tower Hamlets council in July that year. Following a consultation, two of the buildings have been reduced in height from 150m to 130m and from 190m to 150m.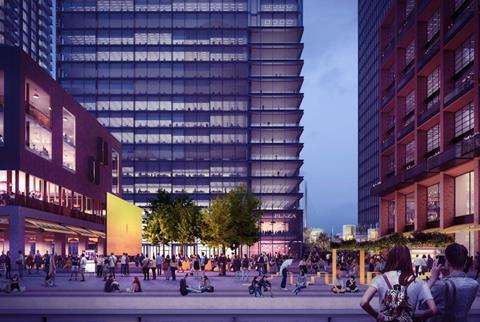 The plot, which is currently being used as a temporary construction compound, has had a long planning history.
In 2007, the Canary Wharf Group-owned site was given planning permission for a mixed-use development featuring towers up to 43 storeys tall.
That scheme, designed by One Canada Square architect César Pelli & Associates with Will Alsop, would have provided a total of more than 370,000sq m of offices and 5,300sq m of retail space.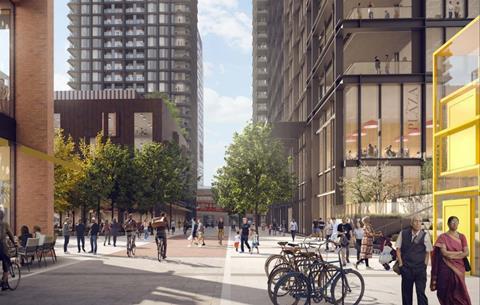 A Foster & Partners scheme for the site that featured four buildings ranging from 30 to 67 storeys was submitted for planning in 2017 only to be withdrawn later the same year after Deutsche Bank pulled out of the project, council officers said in a report.
That scheme proposed up to 158,586sq m of office floorspace, plus 1,423 flats, 216 serviced apartments and 25,213sq m of retail, food and beverage uses.
Mecanoo was also commissioned by Canary Wharf Group to draw up plans for part of the 3.27ha site, but its 2018 proposals are thought never to have made it as far as planning.