CGI shows Square Mile's tall buildings cluster with new towers by SOM, KPF, Eric Parry and Make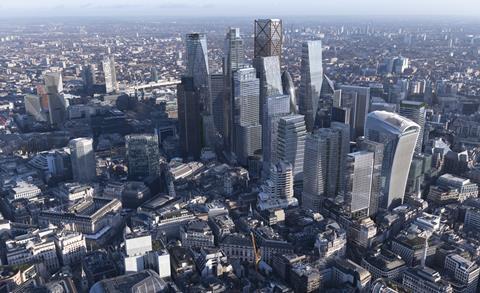 The City of London Corporation has released a new visualisation detailing the growth of the Square Mile's tall buildings cluster by the end of the decade.
It features 11 new towers by architects including Eric Parry, Make, KPF, SOM and Arney Fender Katsalidis.
The City said the image captured all major developments that had been approved or received a resolution to approve over the past 12 months.
It said the period had seen "strong" activity, with a 25% increase in applications received and decided compared with the previous year.
City bosses said the Square Mile currently hosted a total of 617,000 workers and that estimates based on Greater London Authority data suggested job numbers would grow by a further 85,000 by 2040, underpinning high demand for office space.
Shravan Joshi, who chairs the City's Planning and Transportation Committee, said the latest image clearly illustrated "the ever-changing nature" of London's skyline.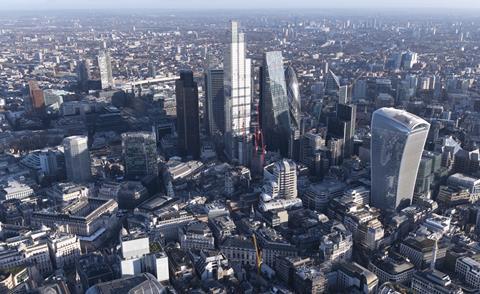 "It demonstrates that the City office is here to stay, and that the Square Mile's real-estate sector is robust and thriving, despite wider economic concerns," he said.
"Through our flagship 'Destination City' policy, we are creating a culturally vibrant, inclusive and welcoming City, enabled in part by these tall towers which help accommodate the hospitality, leisure, social and cultural destinations that are flocking to the City.
"The City Corporation's strong performance this year is underpinned by the built environment team's efforts to de-risk many of the variables associated with real estate investment.
"This includes providing clear policy directives, working closely with stakeholders and undertaking transparent consultation on schemes."
The City said its cultural offer had already "benefitted strongly" from free-to-access public viewing galleries at Wilkinson Eyre's 8 Bishopsgate and PLP's 22 Bishopsgate. It said the attractions had welcomed more than 70,000 people in the past two months.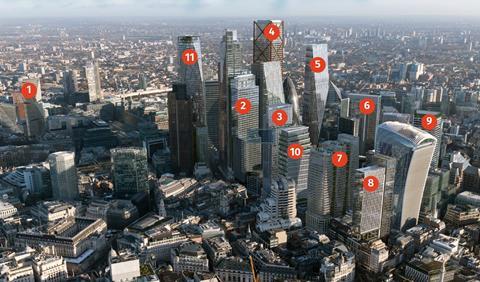 Key:
1) 2-3 Finsbury Avenue – 3XN
2) 6-8 Bishopsgate – Wilkinson Eyre
3) 1 Leadenhall Street - Make
4) 1 Undershaft – Eric Parry
5) 100 Leadenhall Street – SOM
6) 40 Leadenhall Street - Make
7) 70 Gracechurch Street - KPF
8) 55 Gracechurch Street – Fletcher Priest
9) 50 Fenchurch Street – Eric Parry Architects
10) 85 Gracechurch Street – Woods Bagot
11) 55 Bishopsgate – Arney Fender Katsalidis