Corporation claims projections demonstrate post-pandemic confidence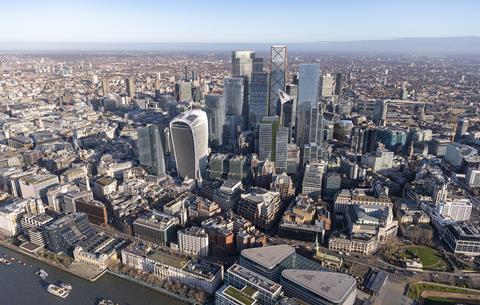 The City of London Corporation has released new images showing how the skyline could look in the mid-2020s.
The majority of the tall buildings in the updated views will be in the so-called eastern cluster and will "fill in the gap" towards Rafael Vinoly's Walkie Talkie which, despite being much closer to the Tower of London World Heritage Site than the rest of the cluster, was approved because of its "high-quality design".
The City issued the projections with a press release arguing that the images demonstrate investor confidence in the Square Mile despite the pandemic throwing the future of the office into doubt.
Alastair Moss, chair of the corporation's planning and transportation committee, said: "These new CGI images clearly illustrate that the City office is here to stay, and the future of the Square Mile remains bright."
Four of the buildings in the cluster were approved in the last year, with a fifth, Acme's 60 Aldgate High Street, outside the cluster.
The rest are either already consented, under construction or recently completed, like PLP's giant 22 Bishopsgate, the new tallest building in the City.
The list also includes Eric Parry's 1 Undershaft whose future has been the subject of much speculation. The list also includes Foster & Partners' Tulip, but the City said this does not appear in the visualisations because it is still subject to a planning inquiry.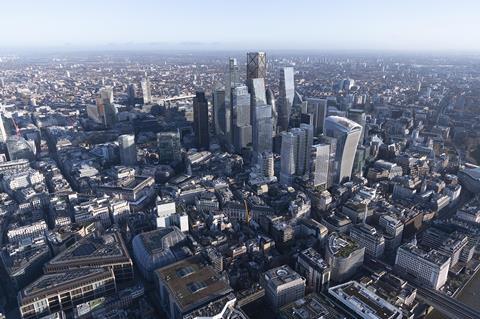 Moss insisted he had "every confidence in a thriving and sustainable Square Mile", adding: "As we look towards the recovery from the pandemic, our planning pipeline is extremely busy with the anticipation of a swift return to the City as the leading place for business in a world-class environment."
He said the City had had "phenomenal" support from developers and investors despite the uncertain times.
"These developers have embraced trends – such as flexible workspace, world-class additions to the public realm and including an array of wellness practices such as greening – to ensure office buildings in the City remain fit for the future," he said.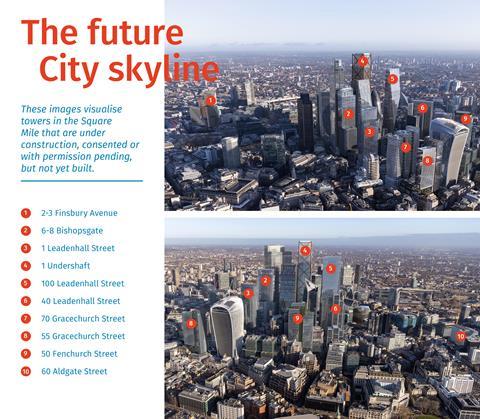 | Development + architect | Height (m) | Status |
| --- | --- | --- |
| 22 Bishopsgate - PLP | 294.94 | Just completed |
| 100 Bishopsgate - Allies & Morrison with AFK | 172.0m | Just completed |
| 150 Bishopsgate - PLP | 135.0m | Nearing completion |
| 6-8 Bishopsgate - Wilkinson Eyre | 185.0m | Under construction |
| 40 Leadenhall Street - Make | 170.0m | Under construction |
| 1 Leadenhall Place - Make | 183.0m | Under construction |
| 1 Undershaft - Eric Parry | 304.9m | Consented |
| 100 Leadenhall Street - SOM | 263.0m | Consented |
| 50 Fenchurch Street - Eric Parry | 149.6m | Resolved to consent – still subject to S106 approval |
| 70 Gracechurch Street - KPF | 154.8m | Resolved to consent – still subject to S106 approval |
| 55 Gracechurch Street - Fletcher Priest | 146.0m | Resolved to consent – still subject to S106 approval |
| 2-3 Finsbury Avenue - 3XN | 170.2m | Resolved to consent – still subject to S106 approval |
| The Tulip - Foster & Partners | 305.0m | Currently subject of a public inquiry |