55-storey tower could start on site this year, says architect
OMI Architects has won planning for 55-storey tower that will be Salford's tallest building.
One Heritage Tower, for the private-rented sector, will overtake the same practice's 44-storey Anaconda Cut, which topped out in March 2018.
OMI said its 173m scheme, earmarked for Greengate just across the River Irwell from Manchester city centre, would include 545 homes ranging from one-bed flats to duplexes and penthouses, as well as a residents' lounge, a rooftop garden, a pavilion, a gym and a library. There is a 15-storey element as well as the main tower.
Practice director Nick Berry said he was delighted to secure planning. He said: "This is a major milestone for the project and for the wider Greengate area which is now a significant part of the regional centre. One Heritage Tower will make a significant contribution to the profile of the area and will provide Greengate with an identity which sets it apart from other clusters around the city.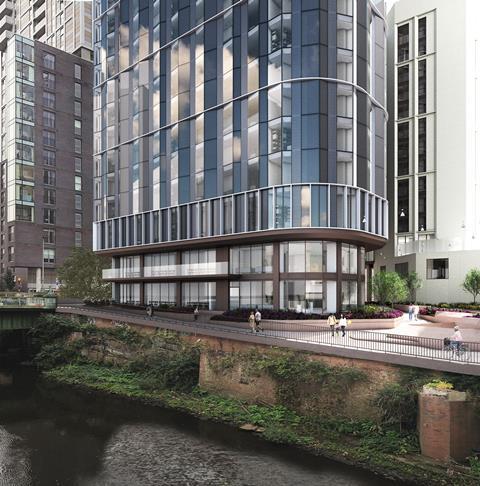 "We have worked closely with Salford City Council to ensure that our proposals are not only positive in their own right but complement other neighbouring developments to contribute to a vibrant and successful place."
OMI is also the architect behind the 33-storey One Greengate Tower, on the opposite side of New Bridge Street, and the 44-storey Anaconda Cut – which was set to be Salford's tallest apartment building when it won planning in 2016. It was originally known as Exchange Court.
Construction of One Heritage Tower could start this year and is slated to complete in 2023/4.