HS2's eastern leg to Leeds also expected to be binned as government poised to publish long-awaited plan for rail upgrades this week
Plans for a new high-speed rail link between Manchester and Leeds are set to be scrapped this week, according to reports.
The government is preparing to reveal a downgrade to the £39bn Northern Powerhouse Rail (NPR) scheme and focus on upgrades to existing lines instead.
It will mean that Bradford, one of the UK's worst-connected cities, will no longer be linked up to regional neighbours by a new line.
HS2's eastern leg from the West Midlands to Leeds will also be scrapped in favour of two shorter high-speed lines.
The announcements will come in the long-awaited integrated rail plan (IPR), which will contain £96bn in funding for rail upgrades when it is published on Thursday.
The watering down of the NPR link will likely enrage regional leaders who have said the replacement of the antiquated existing cross-Pennine route would be a key driver of the regional economy.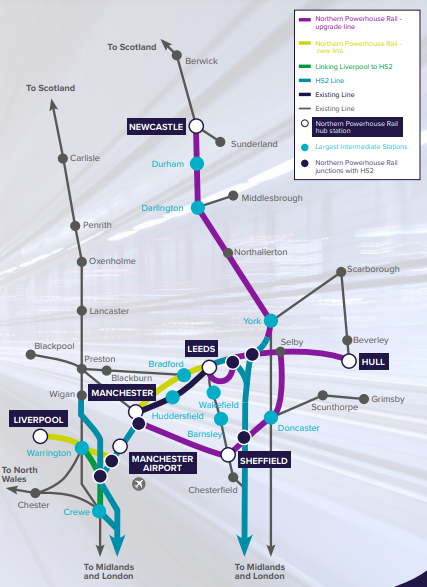 Trains between Reading and London currently run at almost double the average speed of those between Manchester, Leeds and Bradford, while passenger numbers in the north have increased by around a third in the last decade.
Three days after taking office in 2019, Boris Johnson gave a speech at Manchester's Science and Industry Museum in which he said: "I want to be the prime minister who does with Northern Powerhouse Rail what we did for Crossrail in London."
In February the following year he also committed to connecting the West Midlands to Leeds with HS2.
A senior civil servant told the i newspaper: "This is a half-arsed attempt at building a high-speed rail network in the North.
"What sounds like a big pot of money is really a lot of smaller scaled back projects piled together into one big announcement to hide that they are in reality delivering fewer things over a longer period of time.
"It'll be downgrading the North compared to the levelling up that other areas are getting from the benefits of HS2 and Crossrail over the decades to come."
To replace HS2's eastern leg, transport secretary Grant Shapps is expected to announce two shorter high speed routes.
A 42-mile line will be built between Birmingham and East Midlands Parkway, just south of Nottingham, which is expected to cut journey times from 72 to 27 minutes.
And a 23-mile route will run south from Leeds, cutting journey times to Sheffield from 42 to 24 minutes.
But the two new routes represent the northern and southern ends of the planned route of HS2's eastern leg, which will now have a 50-mile section missing in the middle.
The IRP will also confirm that HS2's western leg from the West Midlands to Manchester will be built, along with a new tram system for Leeds.
But Northern Powerhouse Partnership director Henri Murison was quoted as saying: "Without the benefits to areas such as Yorkshire and the north-east, HS2's status as a project to drive the whole of the UK is undermined considerably.
"Will this be a government that levels up, or levels down and walks away from the northern powerhouse they promised with city leaders across the north?"
Shapps said of the eastern leg last month that ministers should not "blindly follow some plan invented 15 to 20 years ago which no longer benefits people".
He also hinted that he favoured improving the links between northern cities and another plan to increase connectivity in the Midlands known as the Midlands Rail Hub.
The Department for Transport said it will not comment on speculation ahead of the publication of the IRP.