Appointment also spells end of 34-storey Brisac Gonzalez tower at 18 Blackfriars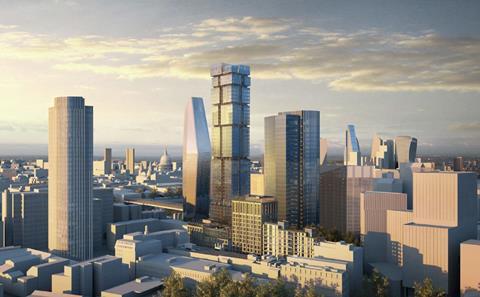 A US property investor has appointed Foster & Partners as the architect for a 1.8-acre site which it has acquired on London's South Bank.
Hines, which announced the off-market purchase of 18 Blackfriars yesterday but did not disclose the price tag, has also brought in Lipton Rogers, the developer behind PLP's 22 Bishopsgate which was founded by Stuart Lipton and Peter Rogers. Rogers is the brother of RSHP founder Richard Rogers who set up Team 4 with Norman Foster and their future wives in 1963.
The appointment of Fosters spells the end for Wilkinson Eyre and Brisac Gonzalez which designed two consented schemes for previous owners of the long-empty site, most recently in July 2017 for Malaysia's Black Pearl.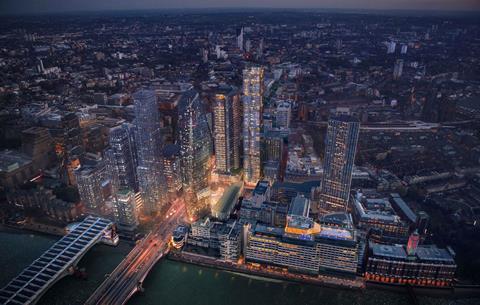 This scheme was for six buildings ranging from five to 53 storeys – taller than neighbouring One Blackfriars, Simpson Haugh's Boomerang, and PLP's replacement for Ludgate House, both at the southern end of Blackfriars Bridge.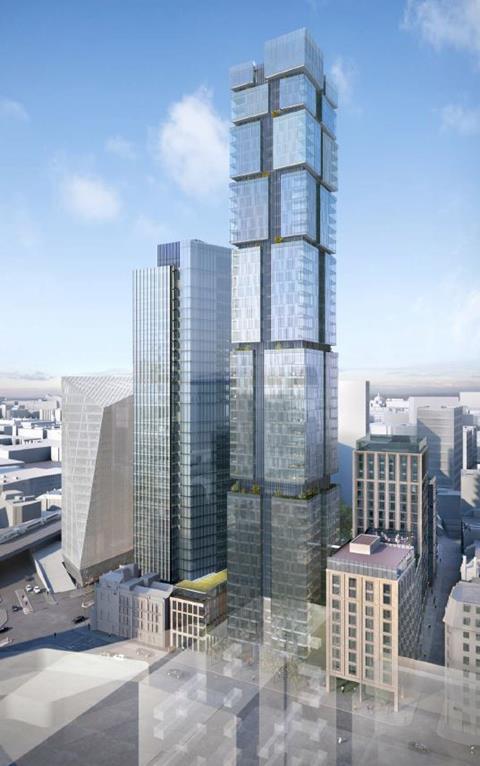 The buildings would have contained 111,500sq m of offices, a hotel, retail and resi. Brisac Gonzalez's 34-storey building was to provided offices above a ground-floor music venue.
That scheme replaced a similar proposal known as 20 Blackfriars Road, also designed by Wilkinson Eyre, which was consented in 2009 after a public inquiry. It included a 42-storey tower. Wilkinson Eyre was later dropped by developer Circleplane Ltd but later returned to the rebranded site.
The site has been vacant since 2016 when several buildings including Owen Williams' Sainsbury's sausage factory, England's first structure built from poured-in-place concrete, were demolished.
A listed post-war church with stained glass depicting local industries, and a listed pub remain.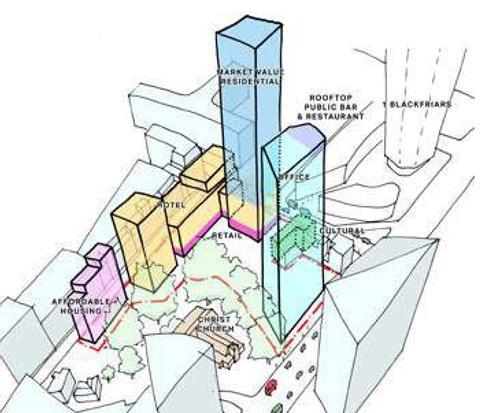 Ross Blair, Hines UK's senior managing director, described the site as "undoubtedly one of the most sought-after development opportunities in London" and predicted it would be worth £1bn once completed.
Hines, which is also working on a number of retail and residential projects in the West End, said it would issue more details in due course but that it had appointed Fosters as project architect with a brief to design a "dynamic" mixed-use development.
It added that it would lead the development but that it had asked Stuart Lipton and Peter Rogers to "bring their design and delivery experience" to the "super prime" location.