House of Commons rejected 'unworkable' Lords amendment to the Fire Safety Bill
MPs have rejected a proposal that would protect leaseholders and tenants in England from having to pay for fire safety remediation work.
The move was in response to peers' attempts to make the government pay for the works and recover the money from developers later.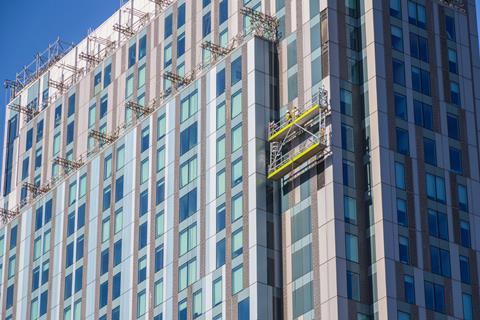 Ministers said the proposal, which was a House of Lords amendment to the Fire Safety Bill, would lead to delays in making buildings safe.
Last night, MPs voted by a majority of 69 to remove the amendment that would have made developers, contractors and product manufacturers responsible, with the government paying the costs upfront before reclaiming them.
Housing minister Chris Pincher said government could not support the proposal, because it was "unworkable and impractical".
"They will make legislation less clear; they do not reflect the complexity involved in apportioning liability for remedial defects," he said.
Speaking ahead of last night's vote Tory MP Royston Smith said leaseholders were being forced to stump up thousands of pounds to resolve issues that were not their fault.
He said: "In my hand this evening I have an invoice. It's an invoice for service charges and remediation of fire safety defects. It is an invoice for nearly £79,000.
"If this bill becomes law we will be abandoning hundreds of thousands of innocent people and I'm not going to have that on my conscience."
The government faced heavy criticism last month when it announced it was putting an additional £3.5bn towards removing unsafe cladding from buildings more than 18m high. This was on top of £1.6bn for cladding removal announced last year.
Cladding campaigners described the announcement of extra funding and the introduction of a developer tax as a "betrayal" of affected homeowners because it would only cover properties over six storeys high, forcing other residents to take out loans.
Housing secretary Robert Jenrick told the House of Commons it would forward-fund the cost of cladding repairs for buildings over 18m in height but that occupants of lower-rise buildings will be forced to use loans at "generous" rates to cover costs.
Those living in buildings lower than 18m in height – around six storeys – will be expected to take out a loan, secured against the property, with the guarantee that payments for individuals will never exceed £50 a month.
In addition, Jenrick's statement to the Commons implied that only the cost of cladding repairs will be covered by the grants, rather than the multitude of wider fire safety issues exposed since the Grenfell tragedy, which have been estimated to cost up to £15bn.