Senior staff attended Westminster dinner months after fire, Grenfell Inquiry hears
Kingspan's former managing director has denied that a private dinner he attended with MPs in the Houses of Parliament was part of a plan to "seek political support" for resisting a ban on its combustible insulation in the aftermath of the Grenfell Tower fire, the inquiry has heard.
Richard Burnley told Wednesday's hearing he attended the dinner in January 2018 along with other senior staff including then-UK technical and marketing director Adrian Pargeter and building technology director Mark Harris.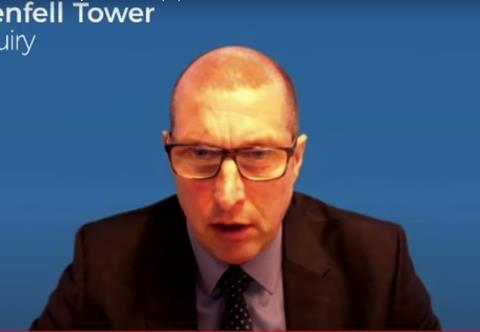 The dinner was also attended by Democratic Unionist Party MP Jim Shannon and Conservative MP Kevin Hollinrake and a possible unnamed third MP.
Burnley said that Harris had shown the MPs a video of a BS8414 test, a type of large-scale fire test on cladding systems rather than individual products, to "demonstrate the robustness" of this form of testing on proving fire safety.
The firm had been arguing that cladding systems could pass these tests and be proven safe for high-rise buildings even if they contained individual components which were combustible and would fail if tested in isolation.
The inquiry has already heard that Kingspan had hired PR firm Portland Communications following the 2017 Grenfell fire as part of a lobbying campaign to persuade the government not to ban combustible cladding products.
The strategy aimed to ensure that Kingspan's combustible K15 insulation could continue to be sold on the market alongside rival non-combustible brands.
Counsel to the inquiry Richard Millett QC asked Burnley: "Would it be fair to describe this dinner as or as part of a plan by Kingspan to seek political support for your attack on the linear route to compliance?"
Burnley replied: "No, I don't believe so, I think we were trying to demonstrate the robustness of BS 8414."
He added that the firm had been trying to explain to the MPs that full-scale fire testing was a "route that we believed could show that systems could be used to meet the Building Regulations".
Millett suggested that the dinner had been held with MPs to seek "political support. Not scientific support, not popular support, political support."
He asked: "The truth is, isn't it, that this is Kingspan accessing political power in order to seek to improve its own commercial position in the aftermath of the Grenfell Tower fire? That's the reality, isn't it?"
Burnley replied: "No, I don't agree with that."
Millett then pointed out that the Kingspan staff at the dinner had been trying to demonstrate the robustness of the BS8414 test while the firm's K15 insulation had by then been sold on the market for over a decade without having passed a test.
The inquiry has already heard that Kingspan had changed the chemical composition of K15 in 2006 but had continued to market the product using the successful 2005 fire test of the "old technology" version of the insulation, only withdrawing the test report last year.
Millett asked: "At that stage, did you know – just think about this – that the K15 being sold and which had been sold for a number of years had failed ever to obtain a pass to a test under BS 8414?"
Burnley replied: "At that point … yes, no, I'm sure I must have done."
Millett asked: "You didn't tell the MPs that, did you?" Burnley replied that testing was "only part of a product development process".
Millett then said: "You were trumpeting the virtues, weren't you, at this dinner, of the BS 8414 test, when you knew by this point that for more than a decade K15 had been sold without that product having achieved a pass to a test under BS 8414?"
Burnley replied: "I'm not sure at that stage I did know that, no."
Millett said: "You said you had a moment ago."
"I said I had what, sorry?" Burnley replied, adding: "I don't know. I can't remember saying that."
The inquiry heard earlier this week that as part of Kingspan's lobbying campaign to stop a ban on combustible insulation products, it had carried out tests on non-combustible cladding systems in 2018 to show the government and a select committee investigating the dangers of cladding that these could also be dangerous.
Kingspan's combustible K15 was never specified for Grenfell Tower but was one of the insulation products found to be included in the building's cladding system after the fire which claimed 72 lives in June 2017.
The first phase of the inquiry found that the insulation products in the tower's cladding system, which also included Celotex's RS5000, "more likely than not" contributed to the rapid spread of flames up the side of the building.
The inquiry continues.