Scheme by Moxon made from CLT
Moxon Architects has completed on Brent Cross Town's Visitor Pavilion, which was made with low environmental impact materials including Glulam beams and Cross Laminated Timber.
Most of the pavilion, part of a £7bn regeneration project, was made offsite during lockdown at the height of Covid-19 with prefabricated panels chosen as they offer a much lower carbon footprint.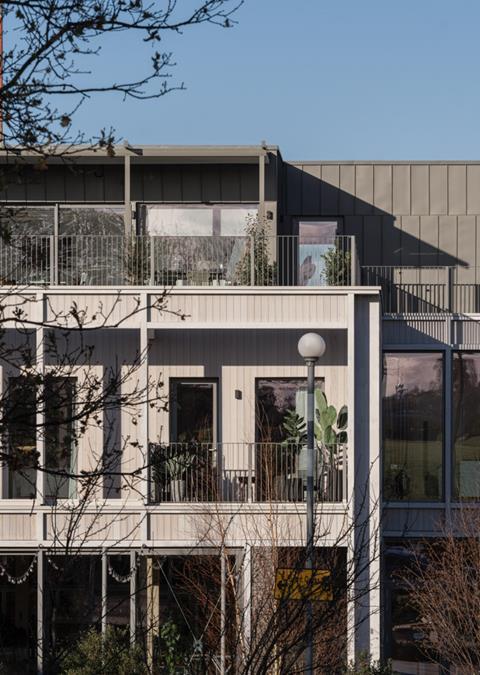 Tim Murray, director at Moxon Architects, said: "A closely coordinated collaborative effort was required to deliver The Visitor Pavilion for Brent Cross Town, not least because the design and majority of the construction occurred offsite during the lockdown at the height of the Covid 19 pandemic.
"The predominant use of timber as a structural, finishing and weathering material contributes to the sequestration of carbon in the building fabric and defines the building's appearance."
On the outside of the pavilion is a grid of exposed timber and it is fronted by a planted area, designed in collaboration with Townshend Landscape Architects.
The building has been designed for long-term durability and ease of repurposing the building or materials in the future, Murray added.
Glulam beams and Cross Laminated Timber prefabricated panels were chosen because they also offer a faster construction time and reduce waste output, as well as offering a lower carbon footprint.
The Visitor Pavilion is the first building to open within the 180-acre North London development project by developer Argent Related and Brent council.
The new park town will provide 6,700 new homes, 3 million sq ft of office space, student accommodation, restaurants and sports and leisure facilities. It is expected to be completed by the end of 2022.