Retrofit project will make listed town hall fully accessible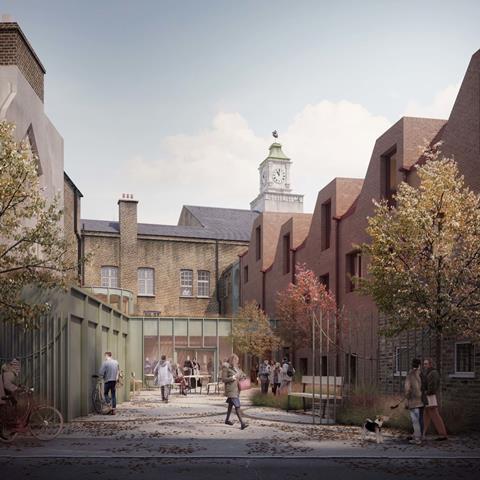 Morris & Company has won planning for an enterprise hub at Goldsmiths, University of London.
The retrofit project will transform and extend a four-storey Victorian parade of shops on New Cross Road into a modern incubator space for local enterprise.
Set to start on site this year, it will also feature a café, garden, and flexible exhibition and event space.
The scheme also includes two new-build interventions, a contemporary new "infill" pavilion, and a link element to connect the hub with Deptford Town Hall, part of the Goldsmiths estate.
David Storring, a director at Morris & Company, said: "Born through extensive consultation and dialogue with Goldsmiths, GLA, Lewisham council, local business, entrepreneurs and the local community, this project offers a new typology for creative workspace, a bridge between Goldsmiths and the local community."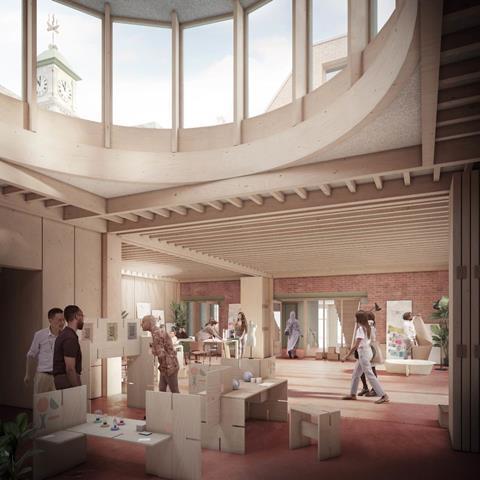 The project approach, to reuse and upgrade, is informed by the site's location in the town hall conservation area.
As well as refurbishing the existing terraces, the scheme will extend and unify the façade in a coherent manner, said Storring.
The rear of the terraces will be extended and repaired with simple brick detailing, clay tiles, and pre-cast coping elements, while the second floor will have a set-back roof profile in a playful repeated form, to break up the massing.
Integral to the overall scheme will be the newly built pavilion, on a parcel of land to the rear of the terraces. The single-storey enterprise and incubation space, lit with multiple roof lights, will open on to a sheltered garden space.
The other new-build element, the link, will sit between the hub and grade II-listed town hall to improve accessibility and help open up this part of Goldsmiths' campus as a community space for use by the public as well as students and staff.
A new chamfered corner entrance, framing the new link, will provide the main public route into the hub.
The pavilion and link elements will be built from sustainably sourced timber, and use zero-carbon methods of construction, while filigree metal façades will reference the decorative metalwork that adorns the town hall.