Wandsworth council approves six-terrace office scheme opposite new US Embassy
Morris & Company has won planning permission for its 13-storey EG:HQ office building, a stone's throw from the new US Embassy at Nine Elms in south London.
The new building, designed for developer Ballymore, features 20,160sq m of work space and 464sq m of ground-floor restaurant and retail space.
Morris' proposals feature cut-backs at the building's upper levels to create six communal terrace areas, overlooking the River Thames, designed to encourage outdoor working, events and socialising.
The stepped design also allows for green roofs, proposed to enhance biodiversity, plus private terraces and roof gardens for a range of uses depending on their scale and location.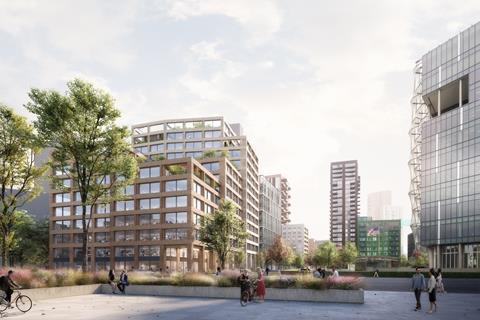 Practice founder Joe Morris said Ballymore had "set an ambitious brief" to create a building that promoted health and wellbeing and was equipped for future workplace trends.
"This is realised through a number of means including a significant number of terraces and roof gardens, and in maximising the cycle store and associated facilities and ensuring all end users have access to abundant natural light and desks with views," he said.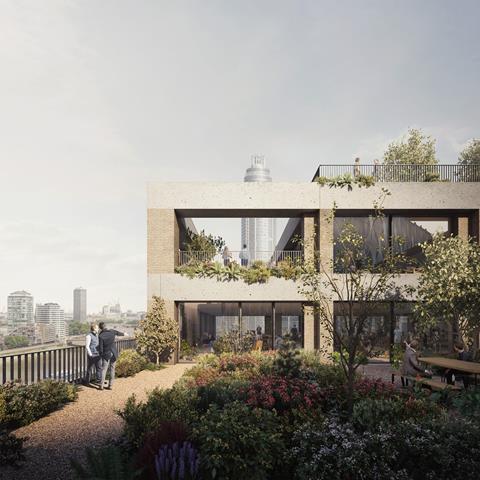 Ballymore group managing director John Mulryan said the building was set to complete in 2022.
"The design of the building really considers what people want in a contemporary office today, including huge outdoor areas, lots of retail space and a genuinely adaptable office environment," he said.
"It's set to be a great addition to London, and will attract some of the most exciting businesses to join our community at Embassy Gardens."