Listed Cedric Price structure to get a major overhaul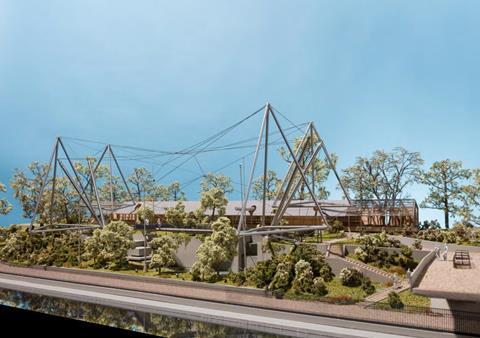 Foster & Partners has unveiled revised designs for its long-anticipated refurb of London Zoo's grade II-listed Snowdon Aviary.
Under the new proposals, birds would be banished from Cedric Price's famous enclosure to be replaced by a troop of monkeys.
Fosters' original proposals, submitted to Westminster council in June 2017, envisaged a multi-species enclosure containing the aviary's original feathered inhabitants, colobus monkeys and a herd of miniature red duiker deer, which would have been free to roam the aviary floor.
A geodesic dome monkey house would have been built to one side of the aviary with an education centre built directly beside it.
But the zoo has changed its animal welfare guidelines on mixing multiple species in the same enclosure, necessitating the rethink.
The plans envisage a long, rectangular monkey house nearly three times the size of the original proposal. It can be divided in half should the monkeys decide to split into two groups.
The education centre will now be housed across two refurbished spaces within an existing education centre nearby. A series of elevated "monkey highways" which the monkeys will use to commute between the aviary and their overnight accommodation in the monkey house have been retained from the 2017 proposals.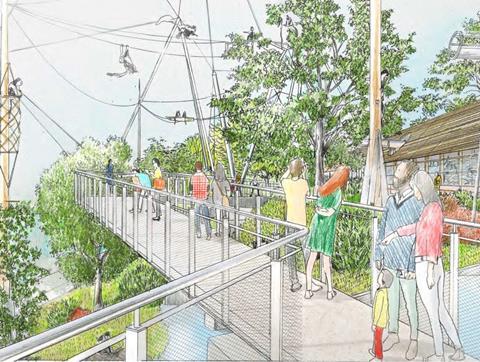 It is understood the scheme, which is being project managed by Mace and has CBRE as its main contractor, is set to gain planning approval in the next few weeks.
Site constraints have meant that the new elongated monkey house will now be positioned along a narrow strip between the north side of the aviary and the Prince Albert Road where the education centre was located in the original plans.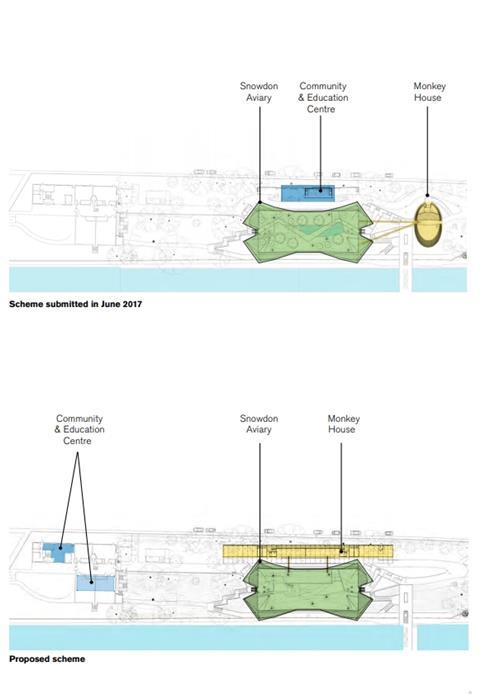 It's not the first time the zoo has had to adapt to new animal welfare guidance. A modernist penguin pool designed by Berthold Lubetkin and Ove Arup in 1934 had to have its occupants removed in 2004 when it was discovered that the penguins were suffering from bacterial infections on their feet from walking on the pool's famous concrete ramps.
It is hoped that the aviary, which is grade II-listed and on Historic England's 'Heritage at Risk' register, will be removed from the register once the scheme is complete.
First opened in 1965, it was designed by Cedric Price with the help of Princess Margaret's husband Lord Snowdon and engineer Frank Newby.
Price has been a major influence on subsequent British architects, including Norman Foster himself, who said he had a "personal affection" for the project.