The modular housing firm has been formally wound up by administrators
Loss-making modular construction firm Ilke Homes has formally entered liquidation with debts of more than £319m set to go unpaid.
A notice of a court order ending administration was filed to Companies House on the 19th October, almost four months after it fell into administration on 30 June. The majority of Ilke's 1,150 employees were made redundant with immediate effect.
Homes England is listed as the firm's biggest single creditor, with an estimated debt of £68.7m. The latest documents suggest that £82,000 is likely to be repaid from the sale of plant and machinery.
Ilke employees are owed £725,000, HMRC is owed more than £2m and other unspecified creditors are owed a combined £249m.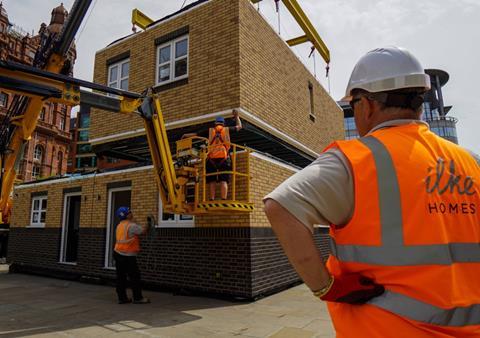 Of the "unspecificied creditors", £227m is owed to "intercompany creditors", money which is ultimately owed in equity to the firm's investors, who have been publicised as comprising TDR Capital, Sun Capital and Fortress Investment Group, among others.
"The administrators do not anticipate that any funds will become available to enable distributions to be made to the preferential or unsecured creditors; however, the likely levels of return are estimated and are subject to change," the document states.
Clare Kennedy and Deborah King of AlixPartners UK have now been appointed liquidators.
The Knaresborough-based business which was founded in 2018 had expanded rapidly, establishing regional offices in London, Birmingham and Bristol.
It announced in 2021 that it was set to take on 500 further staff, having secured £60m of funding despite posting significant losses the previous year.
In December 2022, it secured £100m in funding from investors, including Fortress Capital, TDR Capital and Sun Capital, to expand production to 4,000 homes per year and creae 1,000 extra jobs.
At the start of June 2023, however, investors told the company they were pulling funding due to concerns over the rate of cash burn. This prompted an immediate halt in production and the start of an urgent sale process.
Ilke said it had 15 interested bidders for the company, but none were ultimately willing to buy the business as a going concern and administrators were appointed on 30 June, a day after almost all of Ilke's 1,150 employees were told that they were facing redundancy.
Documents published by AlixPartners show Ilke came close to avoiding collapse, only for a rescue bid to be withdrawn at the eleventh hour.
On June 18, Ilke received a £25m bid to buy the company through a pre-pack administration process, contingent on further support from Homes England. However, the bidder withdrew the offer on June 23, and seven days later the company went into administration