In pics: Listed Glasgow museum set to reopen next month after 'futureproofing' project
John McAslan & Partners has completed its £68.25m refurbishment of Glasgow's world-renowned Burrell Collection, ahead of the museum's reopening next month.
The practice was appointed to modernise and improve the building – completed in 1983 to designs by Barry Gasson, Brit Andresen and John Meunier, which has Category A listing, Scotland's top heritage status.
Despite achieving acclaim for its design and setting – in Pollok Country Park, four miles from Glasgow city centre, the original design suffered from a leaking flat roof – which forced the closure of its mezzanine level. Meanwhile, heavily glazed parts of the museum overheated in the summer.
McAslan said it had focused on "three key project aims" since it was appointed to the refurbishment in 2016: seamlessly repairing the building and improving its environmental performance with a "fabric first" approach; strengthening its parkland setting; and opening up internal areas so that more of the collection's 9,000 items can be displayed.
The collection, donated to Glasgow by shipping merchant Sir William Burrell in 1944, includes tapestries, ceramics, stained glass, sculpture and paintings by leading French Impressionists and Post-Impressionists, among them Manet, Degas and Cezanne. It also boasts entire historic interiors and salvaged architectural details.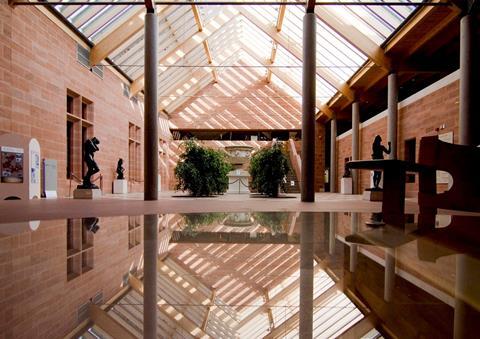 McAslan's refurbishment has boosted gallery space by 35%, including opening up a garden-level floor and replacing a redundant lecture theatre with a connective hub at the heart of the building.
The practice said existing aluminium glazing frames had been reused, saving more than 8.5 tonnes of new aluminium from being added to the structure and preventing 100 tonnes of carbon emissions associated with new aluminium production. It added that the building had now achieved a Breeam "excellent" rating and was "futureproofed".
Practice founder John McAslan said the building has been repaired and brought up to date materially, technically and in terms of environmental performance as seamlessly as possible, with the museum and its setting treated as a work of art in itself.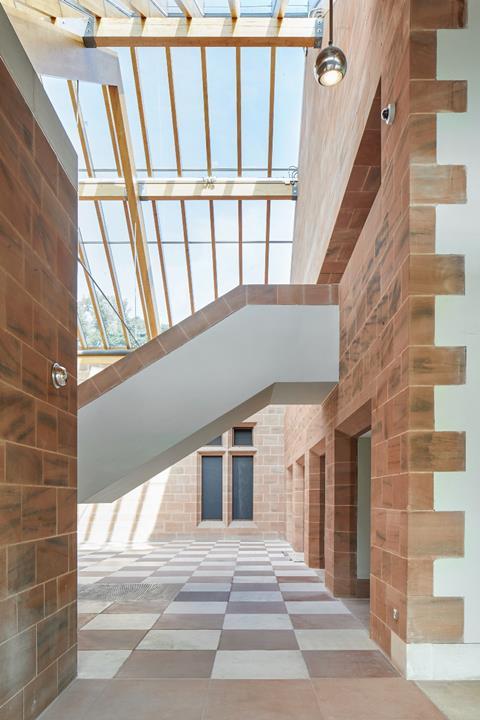 "In all cases we have respected the original architecture and adjusted it appropriately," he said.
"Additionally, we have introduced energy conservation techniques throughout, while reconsidering the needs of the collection to support the improved conservation, interpretation and rotation.
"This includes the collection's particular requirements within the enfilade of north-lit galleries, affectionately known as 'the walk in the woods', a tour-de-force within Gasson's design."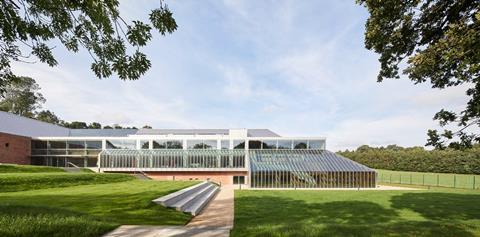 Work on the project, for client Glasgow Life – which is Glasgow city council's culture, sports and education arm – was funded by the council, the UK and Scottish governments, the National Lottery and public donations.
It was originally scheduled to complete in 2020 but was delayed because of the coronavirus pandemic.
The Burrell Collection reopens to the public on 29 March.
Project team
:: Architect and landscape architect: John McAslan Partners
:: Client: Glasgow Life
:: Structural engineer: David Narro Associates
:: Services/fire engineer/Breeam: Atelier Ten
:: Façade consultant: Arup
:: Cost consultant: Gardiner & Theobald
:: Project manager: Gardiner & Theobald
:: Main contractor: Kier
:: Planning consultant: John McAslan & Partners
:: Acoustic consultant: Sandy Brown Acoustics
:: Access consultant: David Bonnett Associates
:: Exhibition designer: Event Communication
:: Catering consultant: Jo Headland
:: Retail consultant: Seeking State