Social value is an increasingly important part of the way architects win work, but its worth extends far beyond PQQs. Today Building Design launches a new initiative placing it at the heart of our coverage
Today Building Design is launching a significant new initiative which we're calling Designing Social Value.
Under this banner we will be seeking out and celebrating the inspiring work architects are doing to make the world a better, fairer, more sustainable place. We'll also be working with the profession to help tackle the things that stand in your way.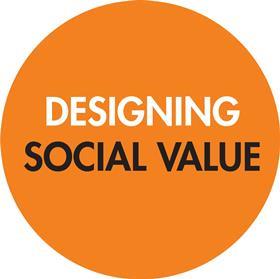 The world is facing unprecedented challenges – climate change, isolation, polarisation and a breakdown in trust are just a few of them – and architecture has never had a more important part to play.
Architects are imaginative, idealistic and generous with their time. It's no surprise that British architecture is in demand the world over – and worth £4.8bn to the economy. We know you have the ability to create buildings and places where people and nature can thrive and we want to place that work at the heart of our coverage.
So why social value? It's a phrase that seems to be on everyone's lips and you'll either already be heavily involved – or too embarrassed to ask what all the fuss is about.
The Social Value Act came into force in 2013, the result of a private member's bill, and it's something of a game changer. It was introduced by a Conservative, Chris White, under the coalition government, but it's a piece of legislation that people of all political persuasions are able to unite behind.
Put simply, it requires public sector commissioners to consider, beyond the bottom line, how they can achieve social, economic and environmental benefits for their area through the procurement process.
It has been embraced enthusiastically – with up to a third of the marks in some PQQs allocated to it and councils like Coventry and Islington even looking to make it a condition of planning for major developments, while Preston is using it to tackle deprivation through its community wealth-building programme.
The act's requirement that social value be "considered" was due to become mandatory this autumn, but Brexit delayed that and it's anyone's guess whether the white paper will survive the election. But experts agree it's of little consequence because the act has taken on a life of its own. It has caught people's imaginations as a way they can achieve some of the good things they want to do at a time when belts are tight.
Social value is here to stay and will be an increasingly important part of procurement. As Guy Battle of the Social Value Portal says: "I think we're going to see a significant shift in how social value is embedded in design over the next year or two. The bottom line is that if you want to win work with the public sector, you need to have a social value offer."
With public sector contracts worth more than £27bn, an awful lot of the work available to architects now comes with rather wonderful strings attached
With public sector contracts worth more than £27bn last year, an awful lot of the work available to architects now comes with rather wonderful strings attached. Your practice's pioneering engagement programme with local schoolchildren? Your progressive employment practices? Your zero carbon commitment? All this can now be sold to clients as reasons for hiring you.
It's early days, of course, and there is still much to be ironed out. Sarah Firth, an architect at Haworth Tompkins who sits on the practice's social value group, says every PQQ they have filled in over the last two years has demanded something different. Some standardisation will surely be necessary, and the National TOMs Framework is a start.
Despite the heavy investment of time demanded by PQQs, the weighting they give social value is a "massive incentive" for practices, she says. Increasingly it's scored as 10% of the quality portion of a submission, so 7% of the overall bid – though in Manchester, for instance, it has been 30%.
Another frustration is that often there is no space to talk about the value that the design itself will bring.
"It's a weird disconnect," says Firth. "The client is investing in, say, high-quality public realm design – and yet you're having to find a way of shoehorning that into your response."
Once again, the real value that architects bring to projects is overlooked. And that is why Building Design is taking a much more expansive view of social value than the government definition.
We see social value as encompassing all that is good about architecture – and what should be better. From the way Mikhail Riches' Goldsmith Street has lifted people out of foodbank dependence by slashing fuel bills, to design decisions that remove "bullying corners" from schools or cluster front doors in old people's housing to foster a sense of community – all this should be celebrated.
We're also interested in the things that so often dictate the outcome: procurement, planning, clients, how practices are run, who's at the table. All this will be examined through the lens of Designing Social Value.
We already have leading architects backing the initiative, as you'll see over the coming days, including a dedicated social value columnist, Flora Samuel, who will help you navigate the new landscape. We hope you'll get on board too, by sharing your thoughts and projects with us.
As Jørn Utzon once put it, architecture is about furthering human wellbeing. That's what this is ultimately all about.