Office scheme will require demolition of 1960s French Railways House – while 7 Millbank will be rebuilt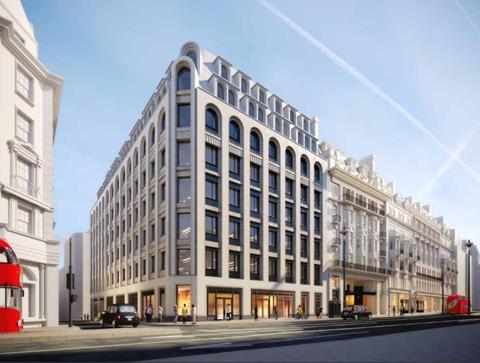 Make Architects has been given the green light for a pair of major central London projects including an eight-storey office building opposite the Royal Academy of Arts.
The scheme at 180 Piccadilly will require the flattening of two buildings including French Railways House, a 1960s modernist landmark previously used as the headquarters of French state-owned railway firm SNCF.
The architect said that the existing buildings "do not meet the needs of modern office and retail occupiers" and said their replacement would offer more adaptable modern workspace.
The eight-storey French Railways House, which was designed by Shaw & Lloyd with interiors by Charlotte Perriand and Erno Goldfinger, featured projecting letters by Goldfinger spelling out the word 'France' on its facade before they were removed in 2013. Perriand is currently the subject of a major retrospective at the Design Museum.
All the Perriand and Goldfinger elements have been lost and a street level arcade filled in, which led Historic England to turn down a listing application from the Twentieth Century Society in 2013.
It described it as "a solid example of post-war commercial in-fill development. The building responds thoughtfully to its prominent site in a prestigious location; with careful proportions and the use of good quality materials, it is a classical reinterpretation in a modernist idiom. However, the building, even before the most recent alterations, does not stand out as having a level of architectural interest to warrant designation".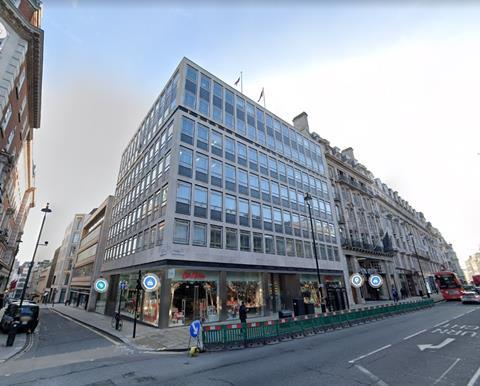 Make said that the unlisted building is "not noted as a building of merit" and that its internal workspace was "narrow" and "difficult to use".
It added that its cladding does not meet current thermal standards and its mechanical and electrical plant is "beyond its economic life expectancy".
While it admitted that the other building on the site, the 1950s 48-50 Jermyn Street, was noted as a building of merit in the St James's conservation area, it said it is not listed and would be difficult to retrofit.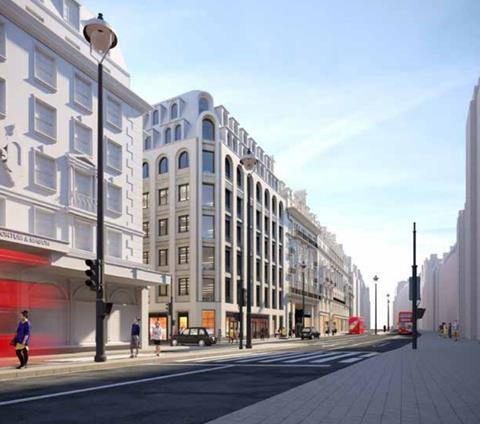 The new scheme, which is being built for Great Portland Estates, will have a total internal area of nearly 10,000sq m and include three levels of terraces along with a communal terrace on the roof.
Make said its design, which features a series of repeating arched windows and a Portland stone facade, was a "contemporary interpretation of the rhythm, materiality and detailing of its handsome neighbours".
Ken Shuttleworth's Make has worked quite extensively in the area, designing multiple phases of the St James's Market redevelopment west of Haymarket for a joint venture between The Crown Estate and Oxford Properties.
7 Millbank
The practice's second green light from Westminster this month will take the opposite approach to its first, involving the demolition and rebuilding of a beaux-arts building at 7 Millbank in Westminster.
The nine-storey building was built in two phases between 1912 and 1929 as the headquarters of British American Tobacco.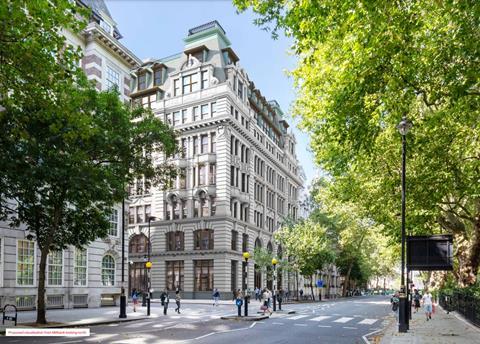 Embedded steelwork in the building has corroded, resulting in a piece of stone falling from its facade on to the pavement in 2016.
The building was then scaffolded for four years while repairs were attempted, but Make said that a "comprehensive overhaul" is needed to fix irreversible damage caused by the corroding steel.
It also said that existing cores have no fire fighting shafts or goods lifts, and would need to be replaced to meet modern standards.