Scheme's neighbours incude Channel 4 HQ and Home Office
Mae has completed a retirement development of 39 homes near the Home Office in central London.
The scheme, Chimes, consists of two six-storey green-glazed blocks running parallel to Horseferry Road with a 14m wide planted courtyard between them.
It has been designed for Pegasus to Happi principles and allows residents to live as independently as they want but with the flexibility for live-in care. They also have access to shared amenities including the garden, a lounge and a dining room.
It replaces a T-shaped 1980s office known as the Grenadier Building. Its neighbours include a 1980s Territorial Army centre and an extension to the 17th-century Grey Coat Hospital secondary school. Richard Rogers' 1994 grade II*-listed Channel 4 headquarters is opposite and Terry Farrell's 2005 Home Office building is round the corner.
Chimes' Horseferry Road facades are made with hand-pressed, textured glazed bricks in lime green, a reference to the central garden.
The façade is also used as a way of mediating the disjointed urban grain. In the deep recess set back from the pavement the angles of neighbouring buildings merge to establish a clear point of entrance, said Mae's Alex Ely.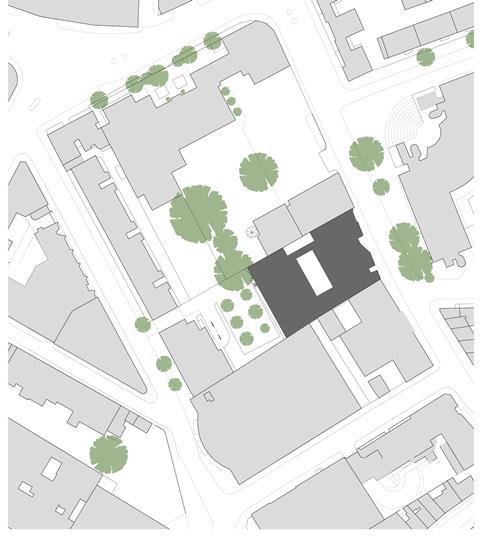 Residents arrive through a generously proportioned lobby space to a communal lounge, beyond which a cloister wraps around the garden which is overlooked by heavily glazed elevations.
With loneliness recognised as a major contributor to health problems in older people, the ground floor is designed to create opportunities for social interaction, primarily within the garden space, but also through other shared facilities such as a kitchen and reading area. There is also a roof terrace accessible in the autumn.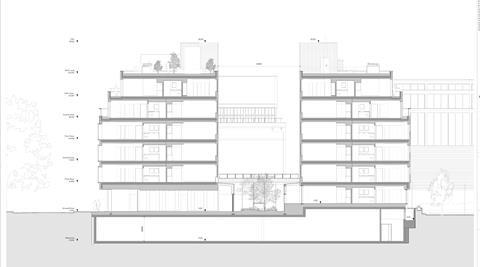 A priority for the layout was legibility so all cores are visible from the point of entry, ensuring easy wayfinding. Natural light and ventilation are maximised, with all apartments designed as dual-aspect and minimal internal corridors.
Carbon emissions are reduced with active and passive design measures and an air-source heat pump.