Project will provide accommodation for 660 students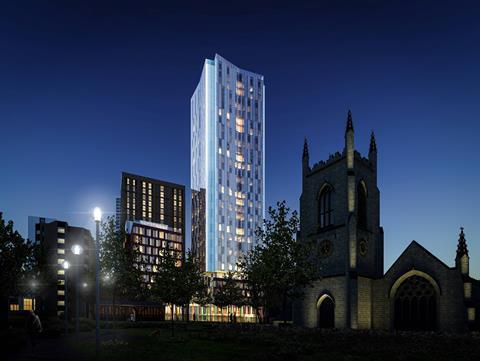 Plans for a £100m residential tower in Leeds city centre have been given the green light.
Leeds City Council's planning committee has unanimously resolved to grant detailed planning permission for the redevelopment of 44 Merrion Street.
The £100m scheme will provide accommodation for 660 students in a 32-storey tower.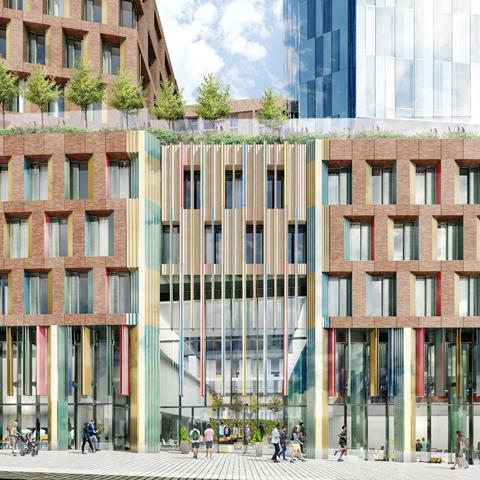 The Simpson Haugh-designed project will replace a large 1970s office block that was previously home to Spanish banking giant Santander.
The mixed-use building, which rises to 99.8m, will have 573 undergraduate club rooms and studio apartments, together with 87 postgraduate studio apartments.
The development company – Merrion Street Leeds Ltd – is owned by Real Estate Capital Holdings in partnership with Bloombridge.
Features of the building include a ground floor arcade-style reception space and a postgraduate rooftop amenity space.
The tower is predominantly made up of cluster apartments - accounting for approximately 73% of the total mix of accommodation.
Each cluster has five bedrooms, all with an en-suite bathrooms, a separate kitchen and dining space, and a larger communal living area which will be shared with the adjacent cluster.
The studio apartments provide a self-contained alternative, but the residents will still be able to make use of a wealth of communal facilities on site.
Five per cent of the total student bed spaces are allocated as wheelchair accessible.
In addition to Simpson Haugh the project team includes Savills, WSP, Re-Form and Paragon.