Pressure grows with revelation that developer donated £12,000 to Tory Party after PLP's £1bn scheme approved
The Labour Party has secured an urgent question in the House of Commons this morning regarding growing concern over Robert Jenrick's decision to unlawfully approve planning permission for a £1bn east London scheme promoted by Conservative donor and media mogul Richard Desmond.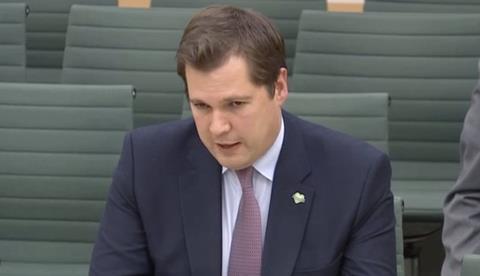 The question comes after the Electoral Commission earlier this week released information showing that Desmond, the former owner of Express Newspapers, donated £12,000 to the Conservative Party in February this year, shortly after the housing secretary (pictured, left) made the controversial appeal decision.
Jenrick's decision to approve PLP's 1,524-home Westferry Printworks scheme was overturned late last month after he admitted "apparent bias" in the decision following a legal challenge by the local authority, Tower Hamlets.
The challenge was made on the basis that by specifically deciding the application on a date that allowed Westferry Developments Ltd to avoid up to £50m in planning obligations, Jenrick had favoured Desmond's firm.
While Jenrick has admitted his decision may have appeared biased and hence will be overturned, he has consistently denied showing any actual bias toward the media mogul.
This is despite the fact Desmond attended a Carlton Club dinner with Jenrick in November at which he sat on the same table and reportedly raised the issue of the planning application. Jenrick said he refused to discuss the matter with him.
Labour's shadow housing minister Steve Reed gained permission from the speaker yesterday to ask an urgent question in parliament on the matter. Reed tweeted last night that the question was directly prompting by the revelation of the new donation by Desmond, registered on February 28. The appeal was approved by Jenrick on January 14.
Reed said in his tweet: "We've been calling for @RobertJenrick to publish all correspondence related to this decision - after this latest revelation he must make a full statement to parliament, there can be no question of cash for favours in the planning process".
The text of the urgent question is: "To ask the secretary of state for housing, communities and local government, if he will make a statement on the need to maintain public confidence in the probity of the planning process and his quasi-judicial role in these matters."
According to the Houses of Parliament website, housing minister Christopher Pincher will respond on Robert Jenrick's behalf, instead of the Secretary of State himself, at 10.30.
The question also follows growing pressure on the government to release all correspondence related to the decision and for a police inquiry into the matter. Tower Hamlets had formally requested the disclosure of all such documents as part of its legal challenge, a threat which was avoided by the government effectively conceding defeat in the case.
Labour peer Lord Adonis last week called for a police investigation, a call which was repeated yesterday by London Assembly member Unmesh Desai, who wrote to Metropolitan Police commissioner Cressida Dick calling on her to confirm whether an investigation had been launched. Desai's letter said there was a "prima facie" case for an investigation and that "it is my belief that his actions may constitute an offence of Misconduct in Public Office."
The Metropolitan Police has said it is "assessing" whether or not there is sufficient evidence to warrant an investigation.
Labour has also called for a full Cabinet Office enquiry into the decision.
Robert Jenrick has been contacted for comment. Previously, a spokesperson for the ministry of housing, communities and local government has said: "While we reject the suggestion that there was any actual bias in the decision, we have agreed that the application will be redetermined."