Twin-tower Acton proposals would deliver 702 new homes and a 159-bed hotel
KPF-designed proposals for a hotel and residential towers scheme in west London – the tallest element of which would be 55 storeys – have been approved by Ealing council.
The towers, earmarked for the site of the Holiday Inn London West on the A40 at Acton, will be linked by a nine-floor "sky bridge" between their 26th and 34th storeys. The feature will contain 36 of the scheme's new homes. Both the 55-storey and 45-storey towers would have roof terraces, as would the top of the "sky bridge". The taller tower will be "crowned" by a three-storey glazed screen.
Created for Aldau Development, the towers will deliver 702 new homes; a 159-room hotel; retail space; and co-working space. The developer said the project would provide 35% affordable housing at the 0.39ha site south-west of Old Oak Common.
The approval – which is subject to ratification by Mayor of London Sadiq Khan – came as City Hall gave its backing to KPF's 1,500-home build-to-rent biscuit factory scheme in Bermondsey, south-east London.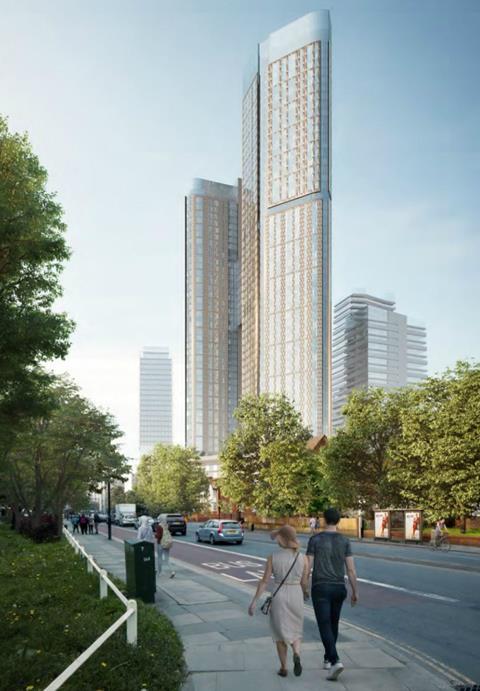 Recommending the Acton scheme for approval, Ealing council planning officers saluted KPF's design and said the proposals represented an opportunity to "optimise and enhance the use of the site", which is part of the Mayor of London's Old Oak and Park Royal Opportunity Area.
Although the current hotel on the site was only consented in 2002, officers noted that the Opportunity Areas Planning Framework advocated "high-density development of mixed-use land, including new tall buildings, new and reconnected public realm, open space and community facilities".
"This is a well-designed scheme which has benefited from a creative but also carefully measured design approach," they told councillors.
"The presence and prominence of the scheme needs to be acknowledged together with the harshness of the immediate surrounds, in particular in relation to its exposure to the southern aspect alongside the A40.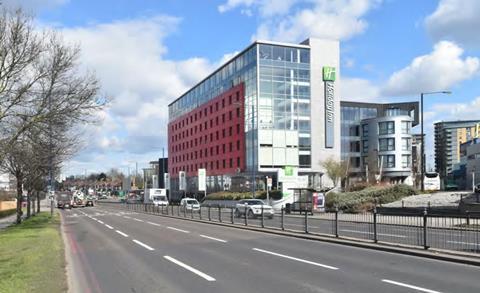 "In its own context, the scheme will act as a catalyst for change in the surrounding area while providing an acceptable balance of employment-generating uses and animated street frontages, combined with a substantial amount of much-needed housing and including a significant number of affordable homes."
KPF design principal John Bushell said the hotel proposals presented "a great new opportunity" to the area, which will be transformed by the regeneration of Old Oak Common.
"This brings to life our vision for a mixed-use 'hub' with a hotel, flexible workspace, residential use and a public venue at the top of the building," he said.
"It will be an active anchor to the emerging area and we are very pleased to see this vision received a resolution to grant."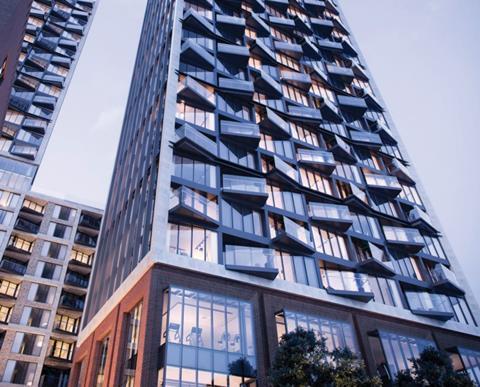 The same Ealing council planning committee meeting that backed KPF's proposals also supported a plan to increase the height of towers proposed for a neighbouring plot at Portal Way.
BUJ Architects saw its plans to add an additional 10 storeys to a residential block originally consented in 2017 approved, taking its total height to 54 storeys. The practice also won consent to add a further four storeys to another tower that is part of that scheme, increasing its height to 38 storeys.
Councillors were told that the proposals, for City and Docklands Construction, would add 97 flats to the development, delivering a total of 701 new homes.