Mayor approves scheme after developer increases number of affordable homes
The mayor of London has approved a residential scheme designed by Arney Fender Katsalidis.
Sadiq Khan's decision on the north London scheme came after its developer promised to increase the amount of affordable homes on the project by more than a third.
Plans to redevelop the disused Pentavia Retail Park in Mill Hill were knocked back by Barnet council last year following concerns the scheme was an over-development of the site and would not provide enough affordable housing.
Sadiq Khan called in the scheme, for Meadow Residential, last November. It had been pegged to deliver 724 homes, of which 31% would be affordable.
Having secured the increase in the number of homes to be made available at London Living Rent levels to 346, up 37% on the original proposal, Khan gave it the go-ahead.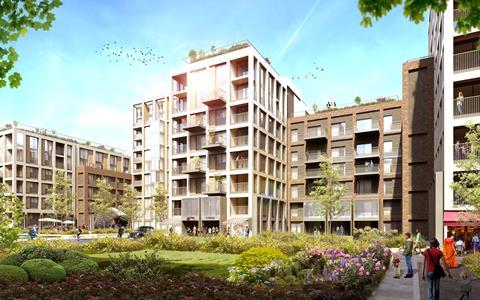 Of the 844 homes to be built 41% will now be affordable. The scheme will feature a mix of one- and two-bedroom apartments and three-bedroom homes. Tenures offered will be private sale, homes for rent and genuinely affordable rented housing.
Khan said the scheme would provide more affordable homes than had been delivered across the whole of Barnet in 2017-18.
The mayor's office said across the five years from 2012 to 2017 Barnet had delivered 21% of the affordable homes target in the London Plan – 1,645 of a target of 7,876 – and 67% of the overall target number of homes delivered, 7,670 of a target of 11,463.
The mayor said he was prepared to use "all the levers at my disposal" to increase the delivery of new genuinely affordable homes across London.