Housebuilders will pay higher planning contributions under new system, housing secretary says
Housing secretary Robert Jenrick has defended government proposals for a radical overhaul of the planning system, which have been warmly welcomed by small housebuilders but derided as shameful by critics.
The controversial shake-up will see the current system, in which councils determine every individual application, abandoned in favour of one where councils effectively give permission in advance by zoning swathes of land for growth.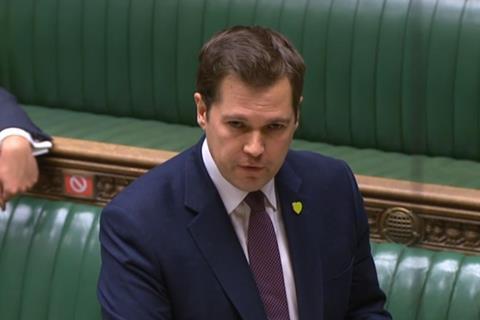 While the government has said that local communities will be at the heart of the new system, critics are describing the move as an assault on local democracy which, combined with the recent expansion of permitted development rights, could lead to the creation of slum housing.
Councils will be required to develop local plans within 30 months that will zone all land in their areas as either "growth", "renewal" or "protection". Growth zones will benefit from automatic permission, while renewal areas will benefit from permission in principle.
The government is also proposing to do away with the Section 106 system of determining developer contributions, which delivers around half of the UK's supply of affordable housing. Both this and the Community Infrastructure Levy will be replaced by a new infrastructure levy.
Jenrick said the reforms, described by Labour as a "developers' charter", were particularly aimed at helping SME builders to navigate the planning system and build more homes. He denied that they put more power in the hands of major developers.
Asked about over whether local communities could do anything to stop schemes they did not like in growth zones, Jenrick told the BBC: "But those development will be subject to design codes, to high environmental standards, and will pay a significant charge – a new infrastructure levy.
"Yes, people won't be able to do anything then – but then they can't really in the current system. What we're asking for is for people to have a meaningful contribution early on in the process by setting the plan."
Jenrick added: "The people who will benefit from this change are obviously the people who will get the new homes but also small and medium-sized builders, not the volume builders who are the only ones that can navigate what is currently a complex and highly litigious system."
"In the growth zone the debate will be in the plan-making process," he said, adding that the new infrastructure levy would require developers to contribute more than they currently do. "This isn't giving more power to developers – we're actually asking them to pay more."
Jenrick added: "We're going to abolish the current system [of developer contributions] which favours big developers and ask them to pay more. We're asking them to abide by a design code which will be set by local people. It will shift the dynamic toward SME developers and local people. And get homes built – which is the main challenge I face."
Brian Berry, chief executive of the FMB local builders trade body warmly welcomed the plan. He said: "Local, small builders are ready and waiting to play their part in delivering the homes, jobs, and growth, but the increasing complexities and costs of the planning system in England have held them back.
"If we get this right, making it easier for SME housebuilders to play a role will help support jobs, provide training opportunities for apprentices and lead to higher quality, green homes that are fit for the future."
The RICS described the proposals as "a big step in the right direction", which could deliver "a quicker more streamlined system that doesn't lower either standards, building quality, internal environment or planning of placement for new homes".
But the Local Government Association said it was concerned at the erosion of local democracy.
Its chairman James Jamieson said: "Any loss of local control over developments would […] deprive communities of the ability to define the area they live in and know best and risk giving developers the freedom to ride roughshod over local areas."
Hugh Ellis, director of policy at the Town and Country Planning Association, said the government needed to be honest about the negative consequences of the plans. He added: "It will undoubtedly be a much less flexible system than the current one and will result in the removal of a major part of the democratic scrutiny of decisions.
"There will be no planning committee decisions about applications because all of this will have been decided at the plan-making stage when the zones are agreed. Some will argue that removing this final democratic control is a positive idea, but it is the removal of democratic oversight, and no one should pretend otherwise."
Mike Amesbury, Labour's shadow housing and planning minister, said: "This is a developers' charter that will see communities side-lined in decisions and denied vital funding for building schools, clinics and community infrastructure.
"These proposals will only serve to blight communities with a new wave of slum housing."