London Assembly's oversight committee has summonsed new tranche of documents from key public figures
The London Assembly has moved to expand its investigation into Heatherwick's failed £175m Garden Bridge project.
A new tranche of documents has been summonsed from a list of high-profile figures including former mayor Boris Johnson, TfL commissioner Mike Brown, current London mayor Sadiq Khan and his deputy mayor for transport, Heidi Alexander.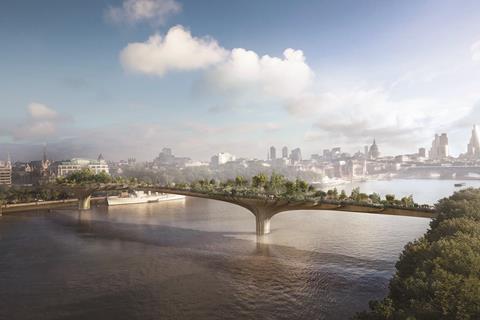 The documents, which are being requested by the committee's Garden Bridge working group, must be produced within two weeks.
Tom Copley, chair of the Garden Bridge working group, said: "We expect full cooperation with our continued investigations into the failed Garden Bridge project and will use all of the powers at our disposal to get it.
"This project was an appalling waste of public money and we intend to get to the bottom of who is responsible."
TfL and the Treasury pumped more than £40m of taxpayers' money into the scheme which was eventually pulled by Khan nearly two years ago.
The assembly said it wants to see briefings and draft briefings, presentations, emails, including emails held by TfL to and from previous employees, copies of the risk register of the Garden Bridge Trust, press releases, statements and communications plans and any correspondence with or from organisations with involvement in the Garden Bridge project.
The committee is also requesting all written correspondence sent or received related to the Garden Bridge project from a long list of current and past members of the TfL board, panels and committees, including Boris Johnson.
Written correspondence about the Garden Bridge project has been summonsed from:
| Current members | Former members |
| --- | --- |
| Sadiq Khan (chair) | Boris Johnson |
| Heidi Alexander (deputy chair) | Peter Anderson |
| Mee Ling Ng | Sir John Armitt |
| Nelson Ogunshakin | Sir Brendan Barber |
| Kay Carberry | Richard Barnes |
| Mark Phillips | Charles Belcher |
| Greg Clark | Roger Burnley |
| Val Shawcross | Brian Cooke |
| Bronwen Handyside | Baroness Grey-Thompson |
| Nina Skorupska | Angela Knight |
| Lynn Sloman | Michael Liebreich |
| Alice Maynard | Eva Lindholm |
| Ben Story | Daniel Moylan |
| Anne McMeel | Bob Oddy |
| | Keith Williams |
| | Steve Wright |