Controversial Pilbrow & Partners scheme would see landmark 1920s building flattened and replaced by office block
The public inquiry into Pilbrow & Partners controversial plans for the redevelopment of Marks & Spencer's flagship store on London's Oxford Street kicks off this morning.
The first hearing into the proposals to demolish the 1920s building and replace it with a 10-storey office block will get underway at Westminster City Hall at 10 am with the outcome likely to be among the most influential for the built environment sector in recent years.
Save Britain's Heritage, which has led a highly publicised campaign arguing for the scheme to be scrapped, will be the main party squaring off against M&S after being granted Rule Six status, meaning that it can cross-examine other parties.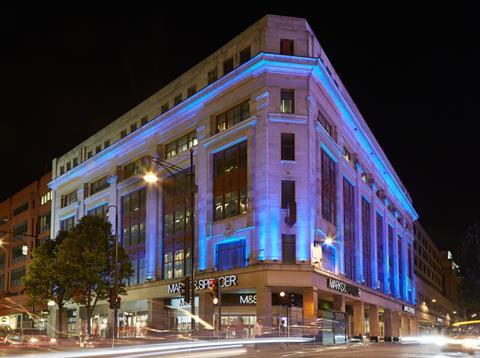 The case is considered to be an important gauge for how the construction industry will approach demolish and rebuild projects, which have become increasingly contested due to the greater amount of embodied carbon they release compared to refurbishments of existing buildings.
The inquiry, which will run for two weeks, will hear from a number of Save supporters today including Ian Ritchie Architects founder Ian Ritchie. Actor and heritage campaigner Griff Rhys Jones will make an appearance tomorrow on behalf of Save.
The main arguments will be thrashed out over the next two weeks, firstly by the M&S team and then by Save's, which includes architect and embodied carbon expert Simon Sturgis, chartered engineer and sustainability consultant Julie Godefroy and writer and urban designer Alec Forshaw.
Save's campaign has been backed by leading built environment figures including London Eye architect Julia Barfield, Grand Designs presenter Kevin McCloud and Haworth Tompkins managing director Steve Tompkins.
Writer Bill Bryson has also been a vocal supporter, saying in August that it would be a "great shame" to flatten the building and that he was motivated by a wish to "help stop a bit of foolishness".
Pilbrow's proposals were approved by Westminster City Council last November, but were called in by then-housing secretary Michael Gove in April.
Following the move, M&S accused Gove of "grandstanding" and said it was "bewildered and disappointed at [his] baseless decision".
A government minister will ultimately determine whether the plans can proceed, based on the advice of the planning inspector who presides over the public inquiry.