Development fails to meet affordable housing requirements and is poorly designed, committee says
Tower Hamlets council has turned down HTA Design plans for a 189-home development in Bethnal Green because of concerns with its affordable housing mix and design quality.
The Cambridge Heath Road scheme, created for Telford Homes, features 40% affordable housing measured by habitable room – or 65 units of varying sizes – on the site of a former London Electricity Board office block. It also includes 1,676sq m of flexible commercial space.
While the proposals contain enough affordable housing according to the council's rules, the tenure mix was 46:54 in favour of intermediate housing such as part-buy, part-rent, putting it at odds with council's stipulated 70:30 split in favour of rented homes.
Councillors also criticised the design of the blocks, a potential source of embarassment for HTA chair Ben Derbyshire – who is current RIBA president.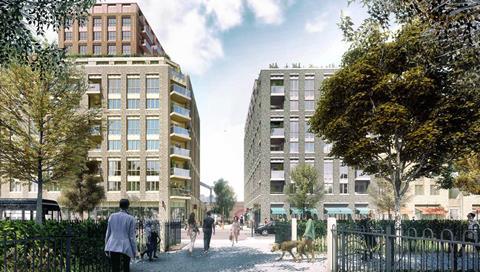 Members of Tower Hamlets' strategic development committee argued that the scheme's proposed layout, height and massing "poorly relate to the site and are considered out of keeping with the site context, townscape and heritage assets". The development site is opposite the grade II-listed Bethnal Green Library and is near the grade I Church of St John on Bethnal Green and the grade II* Museum of Childhood.
"The proposal does not successfully integrate the proposed uses on site with the surrounding area, does not improve the permeability of the area and creates an overbearing relationship to adjacent sites," councillors said in their reasons for rejection.
"The scheme does not have regard to the form, function and structure of the area and does not make an overall positive contribution to wider area and, as such, the proposal is not considered to be of the highest quality."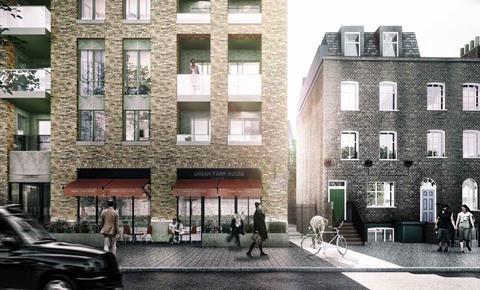 They said that while only "less than substantial harm" would be caused to the nearby heritage assets by the proposals, the degree of harm was not outweighed by the public benefits of the development.
Planning officers had originally urged councillors to reject the development because its 40% affordable housing level failed to meet the 50% target set by London mayor Sadiq Khan for schemes on publicly owned land.
However that advice was withdrawn when officers realised the 50% target only applied to schemes seeking "fast-track" approval from Khan. The HTA proposals are not seeking fast-track approval.
Notting Hill Genesis Housing Association was the prospective registered provider for the scheme's affordable housing.