15 housing bodies, including the CIH and NHF, have signed the letter
A group of 15 housing organisations and homelessness charities have sent an open letter strongly urging Suella Braverman to reconsider plans to criminalise the use of tents by people who are rough sleeping.
The leaders of housing bodies, including the National Housing Federation, the Chartered Institute of Housing and Centrepoint signed the open letter coordinated by homelessness charity Crisis.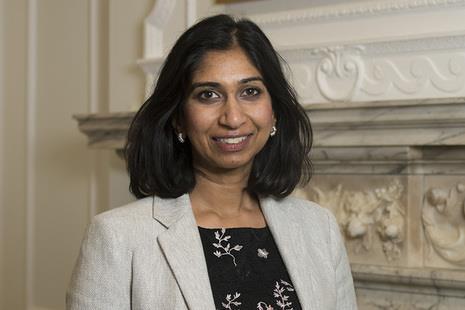 Suella Braverman has submitted proposals to restrict the use of tents by homeless people ahead of the King's speech
It states that the proposal to ban the pitching of tents by homeless people will "remove the only protection many people depend on" and endanger lives.
It said: "Sleeping on the street is not a lifestyle choice. Laying blame with people forced to sleep rough will only push people further away from help into poverty, putting them at risk of exploitation.
"At the extreme end we will see an increase in deaths and fatalities which are totally preventable."
It also refers to the plans as "a replacement for the draconian 1824 Vagrancy Act". The Government committed to repealing the 1824 Vagrancy Act in August 2022 and pledged to end rough sleeping with £2 billion in investment over the next 3 years.
In a statement on Saturday 4 November, the Home Secretary referred to rough sleeping as a "lifestyle choice", adding that "we cannot allow our streets to be taken over by rows of tents".
Braverman's proposals include a new civil offence which could see charities fined for giving tents to homeless people, if the tents cause a nuisance.
The Home Secretary has put the policies forward for inclusion in the government's legislative programme that will be announced in the King's speech tomorrow (Tuesday 7 November).
The proposals are being considered for inclusion in a new criminal justice bill.
If included, the potential legislation would apply to tents pitched in public areas which cause a nuisance, such as by obstructing doorways.
The open letter calls on the government to invest in interventions such as Housing First and increase housing benefit at the Autumn Statement to ensure people can afford their rent.
The signatories of the letter also call for the reversal of the recent changes to asylum-seeker policy which is resulting in people granted settled status being evicted within a matter of days.
The 15 signatories of the open letter to Suella Braverman:
Matt Downie MBE, CEO, Crisis
Gavin Smart, CEO, Chartered Institute of Housing
Seyi Obakin OBE, CEO, Centrepoint
Katie Dalton, Director, Cymorth Cymru
Jean Templeton, CEO, St Basils and Chair of the WMCA Homelessness Taskforce
Rick Henderson, CEO, Homeless Link
Kate Henderson, CEO, National Housing Federation
Alex Bax, CEO, Pathway
Pam Orchard, CEO, The Connection at St Martin in the Fields
Mick Clarke, CEO, The Passage
Emma Haddad, CEO, St Mungo's
Michael Chandler, CEO, Groundswell
Bridget Young, Director, NACCOM
Amanda Dubarry, CEO, Your Place
Enver Solomon, CEO, The Refugee Council