HOK appointed to design 'extensive transformation' ahead of completion of rival Co-op Live venue next year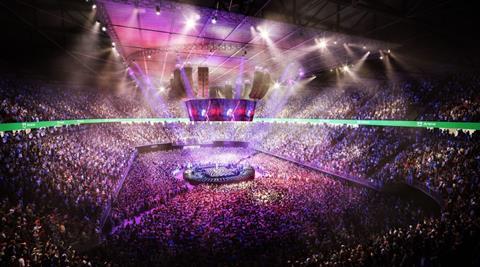 HOK has revealed its plans for a £50m redevelopment of Manchester Arena which aims to reinforce its position as one of the UK's leading entertainment venues.
ASM Global, which manages and operates the 21,000-capacity city-centre arena, has appointed the practice to carry out an "extensive transformation" which is due to begin this summer. It comes at the same time as the construction of a larger, rival venue located on the city's eastern fringes.
The 23,500-capacity Co-op Live arena, designed by Populous and developed by Los Angeles-based developer Oak View Group, is currently being built next to Manchester City's Etihad stadium by BAM. It is scheduled to complete next year.
ASM Global said its plans for the Manchester Arena, which will celebrate its 27th anniversary in July, will include expanding standing capacity, new hospitality lounges and upgrades to the building's concourse.
The scheme will also see the creation of new entrances, VIP seating, artist dressing rooms, production areas and catering spaces.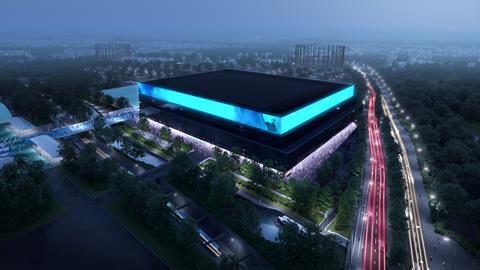 HOK sports and entertainment director John Rhodes said the renovation would incorporate the "latest and most impressive spectator offerings" to ensure the venue continues to attract performers "long into the future".
ASM Global executive vice president Chris Bray added: "As we approach our 30th anniversary, this ambitious endeavour will reinforce the arena's position as a leading destination for live entertainment and extend its market leadership for live experiences for the next 30 years."
Stars due to perform at the arena this year include Billie Eilish, Dua Lipa, Diana Ross, Alicia Keys, Swedish House Mafia, Snoop Dogg and George Ezra, The redevelopment is being planned to work around these events.
Opened in 1995, the venue was the UK's first to be built with 360-degree seating and attracts more than 1 million visitors annually. It is now known as the AO arena for sponsorship reasons.