The proposals were blocked in July despite having been given the go-head by the London Mayor and the council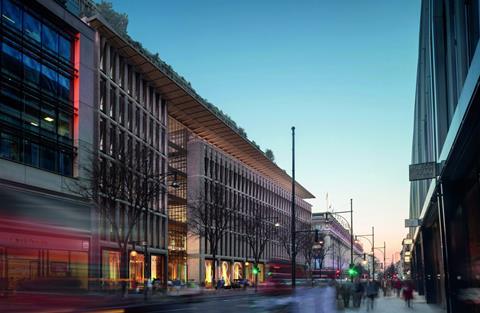 The High Court has granted permission for Marks & Spencers to appeal Michael Gove's decision to block the demolition and redevelopment of its flagship Oxford Street store.
The retailer will be able to pursue a judicial review of the decision by the secretary of state for housing after he refused planning permission for the Pilbrow & Partners-designed scheme on heritage and environmental grounds.
"We have been clear from the very start that the refurbishment of the existing store was not possible," M&S chief executive officer Stuart Machin said.
"This is only the first step in the lengthy process of overturning the government's senseless decision to reject our Marble Arch proposal – the only retail-led regeneration on Oxford Street."
The redevelopment was struck down by Gove in July following a high stakes public inquiry.
The plans include the demolition of three buildings currently occupied by M&S, including the 1929 Art Deco Orchard House, and the construction of a 10-storey replacement store and office block.
At the time, Machin described the decision as "utterly pathetic" and "hugely disappointing."
Save Britain's Heritage, which led the case against M&S' proposals in the public inquiry, supported Gove's decision and said it will "continue to defend the claim".
M&S, which has occupied Orchard House and two attached buildings for nearly a century, had received approval from Westminster council in 2021 for the redevelopment.
The plans had been backed by London mayor Sadiq Khan but were called in by Gove last year.