Scheme in north Wales was completed between 1977 and 1981
Heritage campaigners have been rebuffed in their attempts to get a school earmarked for demolition in north Wales listed – and so spared the wrecking ball.
Plans are underway to create a £31m combined primary and secondary school campus at the Argoed High School site in Mynydd Isa, near Mold.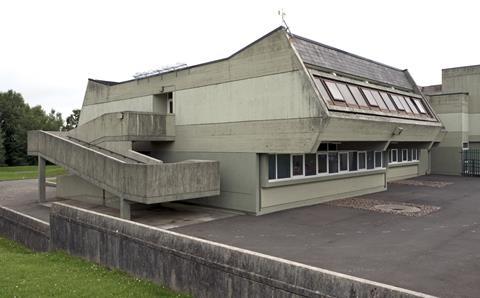 It will involve tearing down Argoed School which was built in three phases between 1977 and 1981 and designed by the Clwyd County Council architects KJ Denley and J Brian Davies.
The Twentieth Century Society said it was "dismayed" the listing application had been turned down and the group's caseworker Coco Whittaker added: "We are very disappointed by this decision as we believe this is a fantastic example of a late 20th-century comprehensive school in Wales, designed in a bold but also contextual Brutalist style."
She said the other major Brutalist school in Wales, Bettws in Newport, had been demolished in 2008.
The school was published in the Society of Architects in Wales Yearbook for 1983 where it is described as having "carefully considered details". It was awarded a Cement & Concrete Association Craftsmen Award.
The Twentieth Century Society said the school has "angled walls and roofs, resulting in dynamic and highly modelled elevations that are then continuously glazed. Its materials and finishes were chosen to reduce maintenance costs."
But in a listing report, Cadw, the Welsh government's Historic Environment department, said the construction of Argoed was not particularly noteworthy and dates from a period that is not associated with any particular advances in comprehensive education.
The new school planned for Flintshire council will see 600 pupils at the primary school and a further 700 at the secondary.