Project will retain listed dental hospital building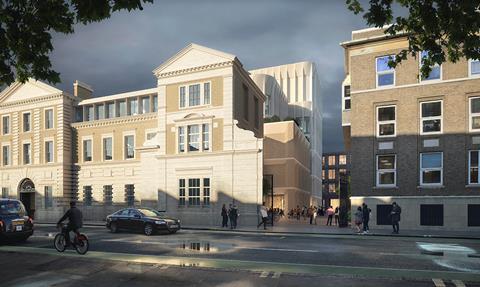 Hawkins Brown has won planning for a £282m neuroscience centre for UCL in central London.
The project will bring 500 research scientists and clinicians currently working for different institutions on dementia and other neurological diseases such as MS, epilepsy and Parkinson's, under one roof.
The scheme will involve the retention and repurposing of the grade II-listed Eastman Dental Hospital on Gray's Inn Road and the neighbouring Alexandra Wing.
The large 1950s Levy Wing, which extends behind the soon-to-be-vacated dental hospital, will be demolished and replaced.
The new building will contain reconfigurable shared laboratories which can adapt as research techniques evolve.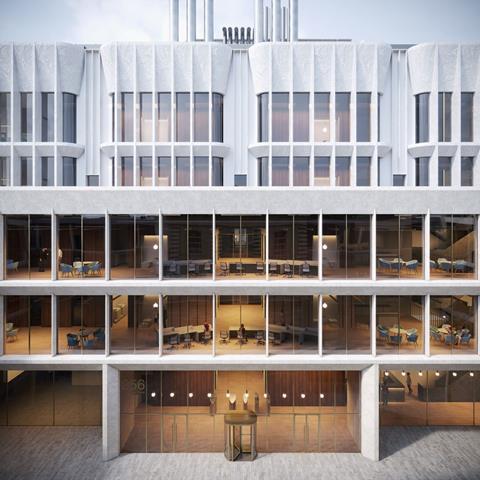 The building will also house outpatient consulting and an MRI suite for the UCLH National Hospital for Neurology and Neurosurgery.
It will be open to the public with a café and exhibition spaces as well as thoroughfares for both pedestrians and cyclists.
New landscaped areas will include a sensory garden, courtyard and other green space.
The project will target Breeam Excellent, aiming to reduce carbon emissions by 40% and producing low levels of landfill waste from the construction process.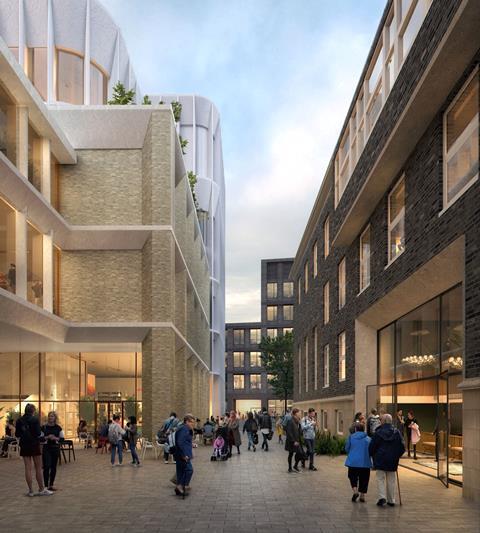 The development, which is due to be completed in 2024, is part of Transforming UCL, a £1.25bn 10-year programme of investment in UCL's estate across London.
Kevin Argent, deputy director of UCL Estates, said: "This marks a significant moment for UCL, and the culmination of years of hard work from our team and our partners. With planning permission agreed, we are in a great position to move forward with the construction of another world-class research facility for UCL that will help to ensure our university estate remains one of the finest in the country."
Alan Thompson, dean of the faculty of brain sciences, said Camden's approval would ensure a historic site remained at the centre of London's cutting-edge health and science communities.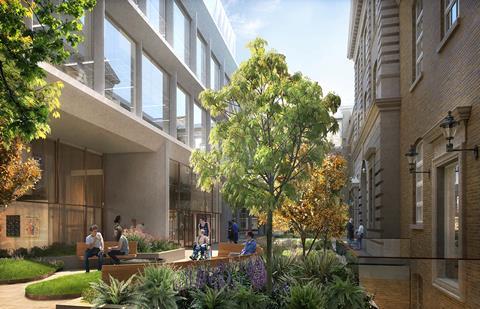 "By bringing the new building into UCL's existing neuroscience community, we aim to create the most comprehensive, coordinated translational neuroscience research hub in the world," he said.
Eastman Dental Hospital is due to relocate to a new development in Huntley Street at the end of this year.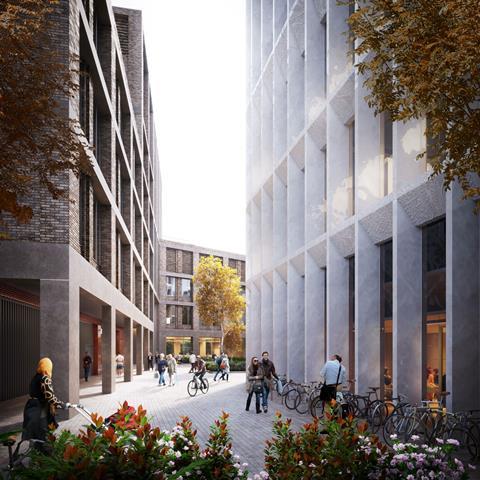 Its Grays Inn Road building, dating from 1928-31, was listed in 2007 when it was described as a late work of the "distinguished architect Sir John Burnet, in partnership with Thomas Tait, an elegant composition in the French American beaux-arts tradition with good surviving interior decoration in the moderne style". It was held up as a fine example of an inter-war healthcare building. Historic England also said the steel-frame, brown-brick building was a purpose-built specialist clinic and headquarters of a medical institution which had played a major role in the development of modern public dental healthcare in the UK and which was the first of five Eastman dental clinics in major European cities, the others being Rome (1933); Brussels (1935); Stockholm (1936) and Paris (1937).