Toned-down Strand scheme wins backing after 2015 furore
Hall McKnight's toned-down proposals for King's College London's Strand campus have won the backing of Westminster planners, three years after a hugely controversial version of the scheme was pulled.
The 2015 scheme would have seen the demolition of three of the four historic buildings next to grade I-listed Somerset House to provide the university with a new academic building and an extension to the 1972 Strand Building delivering an extra 3,000sq m of space. Only the façade of grade II-listed 152-153 The Strand would have been retained.
Although Westminster council approved the earlier plans, then-communities secretary Greg Clark called in the application amid widespread anger from campaigners. King's subsequently announced the proposals would be dropped, but retained Hall McKnight to work up a new scheme.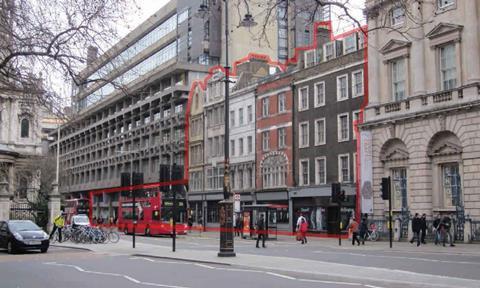 The latest scheme, given unanimous backing by Westminster's major applications committee last month, seeks to retain and refurbish the buildings at 152-158 The Strand, adding new roofs and rear extensions, and internal atria at two of the buildings.
King's owns the run of terraces. They previously housed the college's music and law teaching rooms, but have been vacant since 2011.
Campaign group Save Britain's Heritage opposed the latest scheme, which will deliver 2,171sq m of flexible business or educational space and 498sq m of new retail or restaurant space. It said King's should have be able to retain more of the buildings' original fabric.
Government heritage adviser Historic England did not object to the proposals, arguing that the fabric of the terraces had already been "highly compromised" and that the scheme would "sustain and enhance" the buildings' contribution to the Strand Conservation Area.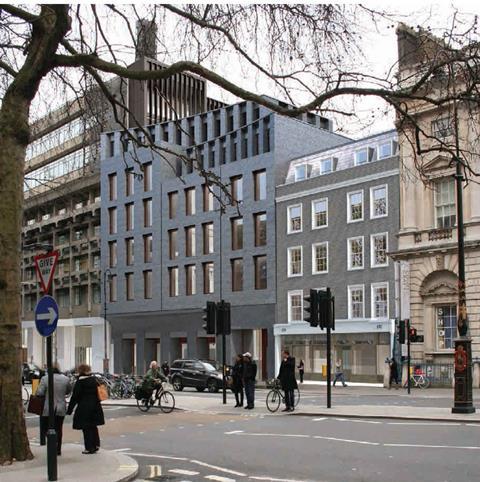 Recommending the scheme for approval, Westminster planning officers said the retention and renovation of these buildings should be welcomed and the extent of demolition caused "very little harm to elements of significance".
"The proposed façade refurbishments are considered to be a positive enhancement to the important Strand frontage and the proposals will bring these long-empty buildings back into a viable, long-term use which will ensure their future protection," they said.
"It is considered that the minor, less-than-substantial harm emanating from the loss of the rear wall is outweighed by the other heritage benefits of the scheme as well as providing a new life for the buildings."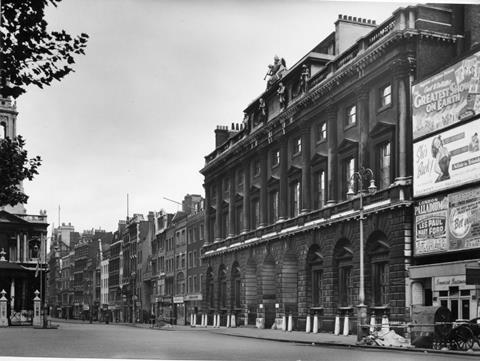 Among the conditions attached to the consent are that King's College London seeks approval for facing materials and glazing before work commences on the affected part of the property.
King's appointed Hall McKnight to the Strand project in 2012, following a competition in which the other finalists were Zaha Hadid, Eric Parry and Henley Halebrown Rorrison.